Park & Ride
The Park & Ride allows commuters and visitors to park outside of the city centre and travel in on one of our regular buses.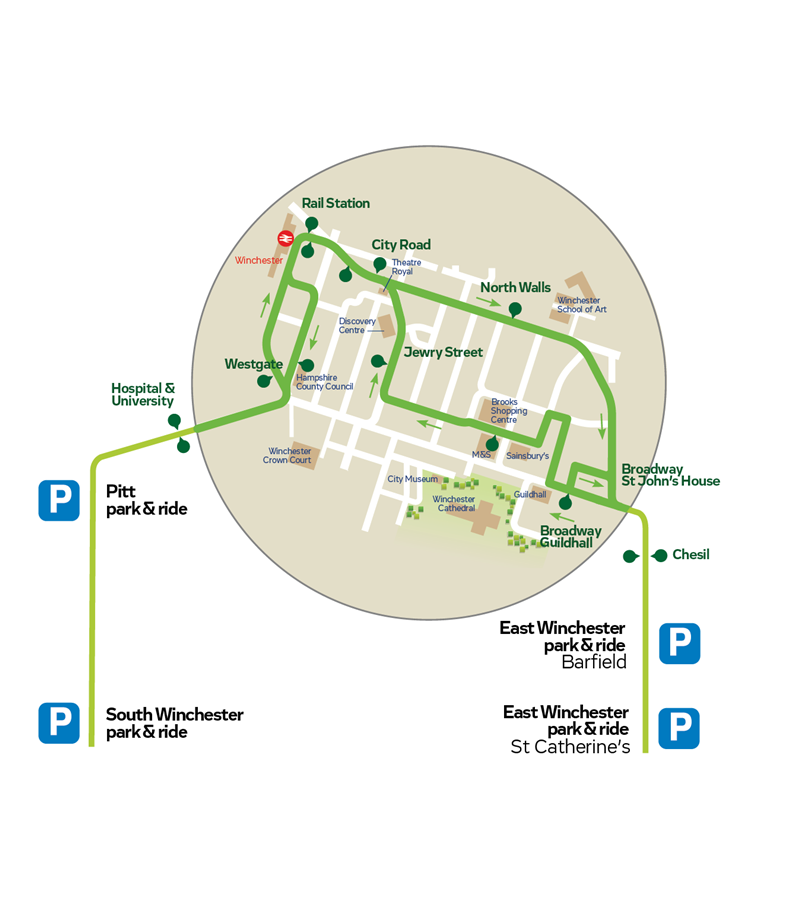 4 October - Temporary timetable
From Monday 4 October, there will be a temporary timetable (pdf, 402kb) for Winchester Park & Ride to make sure that the
service can operate reliably. This is following driver shortages
across the transport industry which are affecting
Stagecoach's ability to deliver the current timetable. Find out more. (pdf, 411kb)
June 1 - Normal timetable resumes
On Monday June 1, we will go back to a normal timetable. However there will be some changes to the way the service operates.
We hope passengers understand that the changes are for their safety and these include
Waiting for others to get off the bus before you get on
Using contactless to pay if you can
Sitting with at least two metres between you and other passengers
If you can see it's too busy to do this, please wait for the next bus – they are running every seven minutes at peak times – thank you.
The timetable can be found here (pdf, 417kb)
Key workers
To support the NHS and Critical Care workers we are continuing to provide free parking (in specific car parks only) until 31 August. You will need a pass for your windscreen so if you fall into this category please contact us at: parking@winchester.gov.uk
Standard parking charges remain in place across our car parks for all other drivers.
South Winchester P&R overnight closure
Please be aware that South Winchester P&R car park is now closed overnight from 9pm until 6am. The site is also closed on Sundays except on Special Event days.
Barfield Park & Ride - temporary changes
Visitors who use the Barfield Park & Ride should note that there are temporary changes to the site, due to essential roadworks to support the construction of the Winchester Sport and Leisure Park.
Park & Ride buses will not serve the Barfield Park & Ride site until further notice This is due to the need to move underground cables in preparation for a new roundabout, which will provide access to the leisure facility.
It will still be possible to use the site for parking, but there will be no associated bus service – users will need to walk into town.

Additional impacts of the temporary works are:
Vehicles leaving Barfield Park & Ride will be temporarily directed onto Barfield Close, and into the city centre in order to access Bar End road.
The current footpath for pedestrians connecting Barfield Park & Ride to the University of Winchester Sports Stadium will also be closed – users of the stadium are advised to use St Catherine's Park & Ride during this time.
Temporary traffic lights will be in place on Bar End Road adjacent to the Winchester Sport and Leisure Park site during off-peak times in order to minimise traffic disruption
Park & Ride
Park & Ride has been developed as a way of reducing traffic volumes and the impact of traffic in the city centre.
There are four P&R car parks: South Winchester, Pitt, and the East Winchester car parks -Barfield and St Catherine's. There are now 1861 P&R parking spaces now available. The car parks are all covered by CCTV, and are all awarded the Park Mark Safer Parking status for security and safety.
The Park & Ride car parks are available for use 7 days a week, but the bus service currently operates Monday to Saturday only. There are no buses on Sundays or public/bank holidays when parking is free in town.
The route of distinctive P&R buses (in two-tone green livery) serves all of the P&R car parks and the key destinations in between.
One P&R ticket covers one car and its occupants for parking and travel for the whole day at a maximum cost of just £3.50.