Artwork given new lease of life as part of Chesil Extra Care Scheme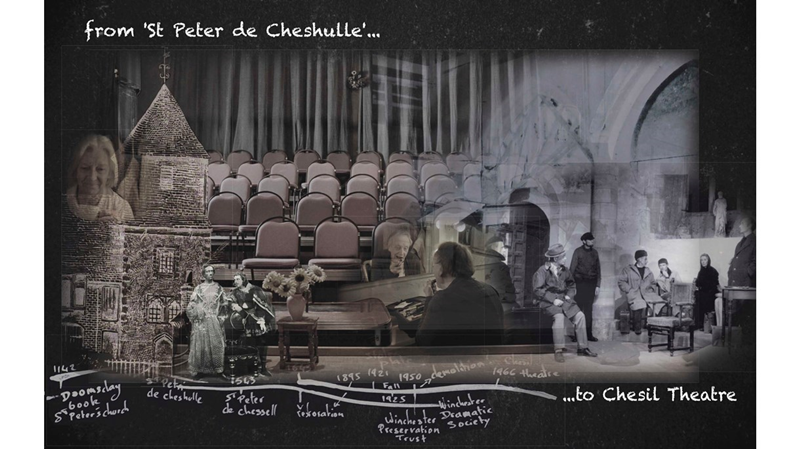 Community artwork commissioned by Winchester City Council has been given a new lease of life and will be displayed in permanent locations around Chesil Street.
The 'We found it in Chesil' project was created to run alongside the Chesil Extra Care Scheme development in Winchester. The artwork, which was displayed on the hoardings of the site ,was produced by French artist Laurence Dube-Rushby. After the hoardings were taken down as part of the landscaping work, the community groups involved with the project enthusiastically took ownership of the designs and they are now being displayed in new venues including St Johns House, All Saints School and Chesil Theatre, the artwork is also being displayed at the entrance to Chesil Tunnel.
The artwork was inspired by the stories, memories and images of Chesil Street that people shared with Laurence. Each design was influenced by people and groups engaged with the project including All Saint's School, Chesil Theatre, residents at the St John's Charity, businesses including Black Boy, Steele Funeral Directors, The Chesil Rectory and other local organisations including Winchester City Mill, Winchester Area Tourist Guide Association and Hampshire Cultural Trust.
Cllr Caroline Horrill, Portfolio Holder for Housing Services and Leader of the City Council said:
It was my very great pleasure to officially unveil the art designs last year and to meet Laurence and the team of people who engaged with the project. I am delighted to see that the project has a positive legacy now these community led designs have found a more permanent home.
For more details of the project visit http://www.winchester.gov.uk/community-recreation/arts/public-visual-arts/we-found-it-in-chesil