Current Mayor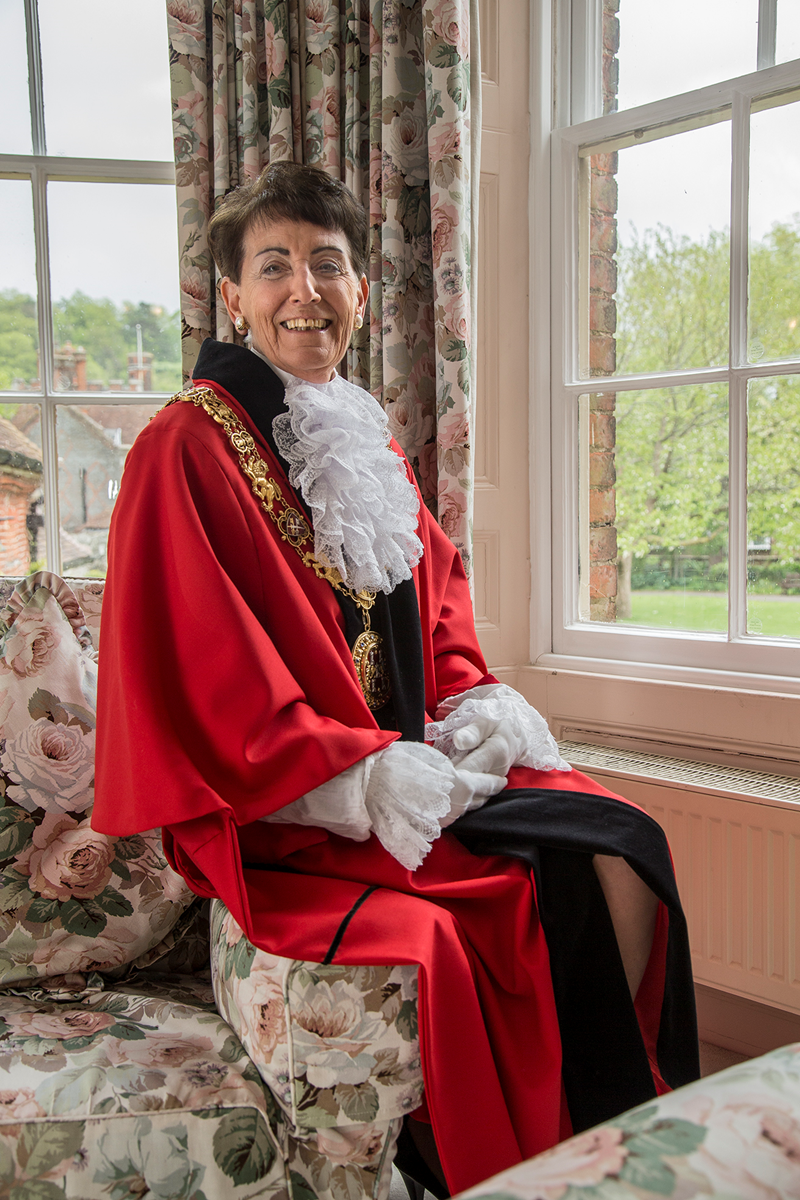 Councillor Angela Clear is the Mayor of Winchester having been elected at our annual Mayor Making ceremony on 17 May 2023. She is the 824th Mayor of Winchester.
The Mayor has chosen three charities to support this year: Rowans Hospice; Naomi House & Jacksplace; and SSAFA, the Armed Forces Charity.
The Mayoralty of Winchester dates back to 1200.
Cllr Angela Clear was also Mayor for the period 2015-2016.
Mayor's Biography
"Having moved to Wickham with my husband Peter in 1975 I have been very active in local affairs.
In 1977 my son Timothy was born and at the age of three he attended the local Montessori School. I became very interested and helped out as a volunteer at the school, which encouraged me to go on and sit for my teaching diploma. In 1997 I became head of Fairlands Montessori School and held this post until 2008.
In 2003 I was elected to Wickham Parish Council and became Chair in 2005 until May 2021. In 2005 I was elected as a Winchester City Councillor for Wickham and Knowle, and later for Southwick, Boarhunt and Newlands.
In my time as a councillor I have been a member of the Planning Committee, Group Manager for 8 years. Chair of Health and Environment Policy Committee; and Chair of the West of Waterlooville Committee. I have been involved with several organisations throughout the district and became chair of our local community centre in 2016 (I like to keep busy!).
In 2015 I had the great honour of becoming the 816th Mayor of Winchester, and once again it is an enormous honour and privilege for me to be elected, this time as the 824th Mayor of Winchester.
Every Mayor supports local charities during their tenure. This year I am supporting two local cancer and end of life hospices which do so such sterling work to support terminally ill patients and their families: The Rowans, and Naomi House & Jacksplace.
My third charity is the Hampshire Branch of SSAFA - who provide life long support to those who are serving or have served in the Armed Forces.
In my spare time, I enjoy giving talks on Agatha Christie. I love all the stories, films and occasionally take the opportunity to stay at Burgh Island Hotel in Devon where Agatha Christie wrote some of her novels. I have two grandchildren - Sophie and Joseph - who live on the Isle of Wight, so when time allows I love being with my family."