New memorial bench offers a place for remembrance and reflection
A new commemorative bench remembering those who have died during the COVID-19 pandemic has been installed in Winchester.
The new bench, which offers a peaceful place to reflect in Abbey Gardens near the entrance to the playpark, has been commissioned and funded by Winchester Bereavement Support and installed with the support of Winchester City Council.
Winchester Bereavement Support is a voluntary charitable organisation offering free help to bereaved adults in Winchester and the surrounding area. Support is given either through home visits or by telephone by carefully selected and trained volunteers.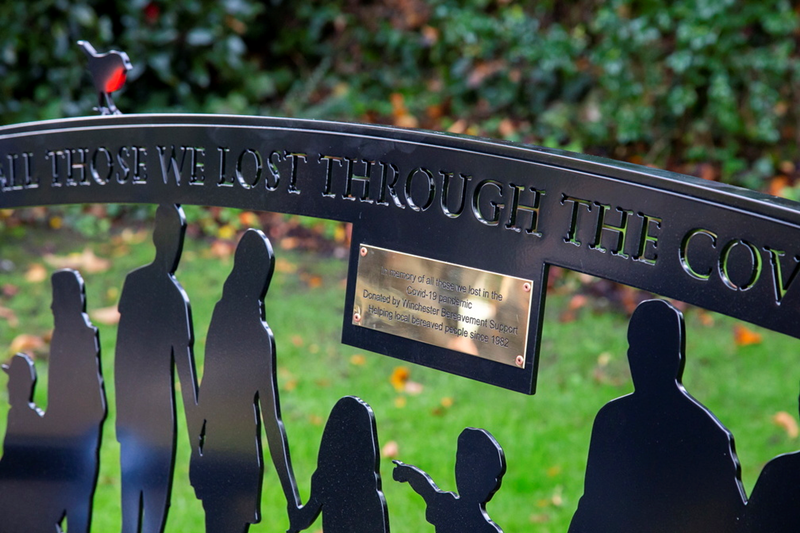 Representatives of the group, alongside the Mayor of Winchester Cllr Angela Clear and Leader of Winchester City Council Cllr Martin Tod, gathered recently in the gardens for the bench's official unveiling.
Chair of Winchester Bereavement Support Leonie Mountney said: "The Covid-19 pandemic has been a very difficult time for everyone but particularly for those who have lost loved ones, often in very difficult circumstances. Winchester Bereavement Support helped our clients to get through this time and we feel it is important to commemorate all those who died or have been bereaved.
"We are pleased to be able to donate this bench to the people of Winchester as somewhere to rest and reflect, remembering all our loved ones."
The Mayor of Winchester Cllr Angela Clear said: "I would like to send my thanks to the volunteers of Winchester Bereavement Support for their inspiration and their hard work, and to all those who have supported the project.
"The beautiful surroundings of Abbey Gardens are a wonderful setting for this lovely bench and I hope that it will provide a peaceful and restorative space for remembrance for all residents and visitors."
COVID-19 remains a public health issue and a range of guidance and support is available - COVID-19: guidance and support - GOV.UK (www.gov.uk).