Local children's artwork unveiled at construction site
Children from a local primary school have designed new artwork that's helping to brighten up a Winchester City Council development project in Winnall.
The Wates Group, which was appointed by the council to develop 76 new homes on the Winnall Manor Road estate, asked children from Winnall Primary School to create designs to bring some cheer to hoarding around the site.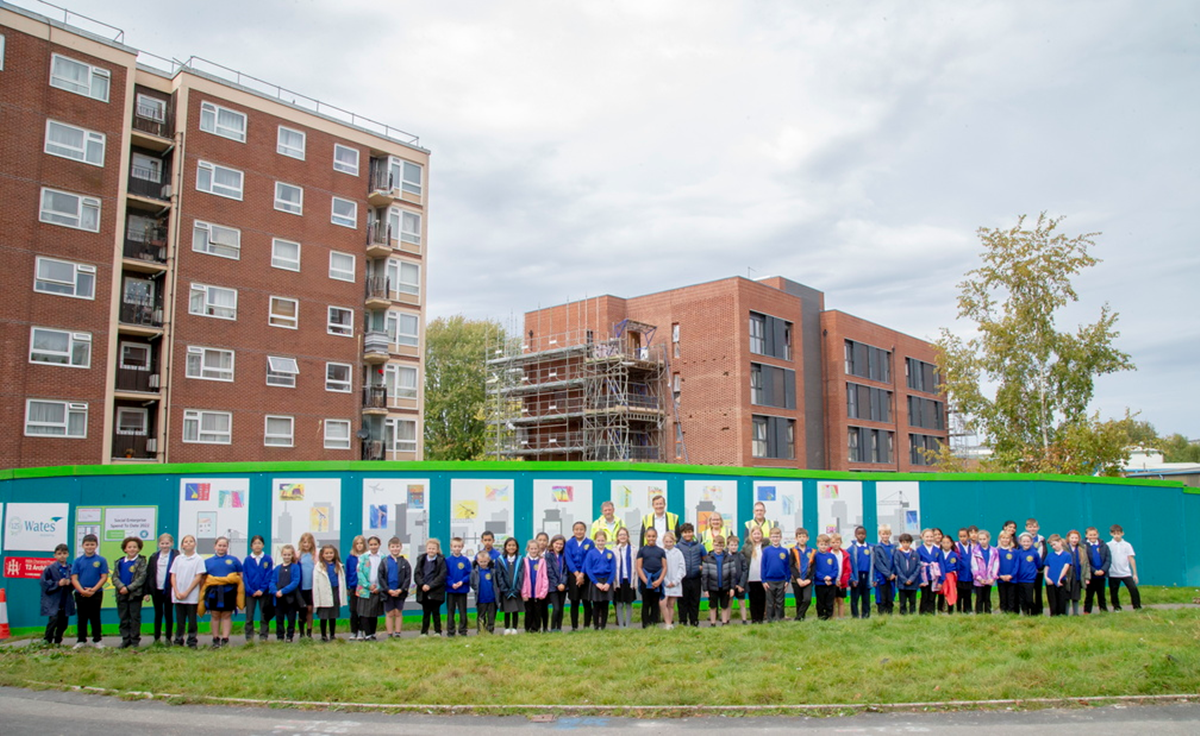 The children, from year 4 and 5, were given a site tour before creating construction-themed designs with the help of their art teacher, Mrs Sarah Miles.
The children's creations were then super-sized and printed on the hoarding by local social enterprise Nuneaton Signs.
The children's involvement in the art project is one of the additional social benefits that the development is bringing for the local community. It is part of a wider effort by Wates to encourage children to explore the built environment and construction industry from a young age.
Construction-themed school books and playing cards, assemblies and new playground fencing for Winnall Primary School are just some of the other ways that Wates has supported the local community as part of the development.
The development itself is a mix of private and social housing comprised of 73 new apartments and three two-bed houses.
The homes, which are set to be handed over to the council shortly, are all being built to Passivhaus standards, meaning they'll be energy efficient and economical to run.
Leader of Winchester City Council Cllr Martin Tod said:
"It was an absolute pleasure to help the children of Winnall Primary School to unveil their artwork at the site.

The new energy efficient homes are being developed for local people and future generations of Winchester residents, so having local children involved in its development is the perfect start to this ambition.

The artwork itself has certainly brightened the surroundings and we're thankful to Wates and the staff at Winnall primary school, but most importantly, the children for their wonderful effort.'
Business Development Director at Wates Residential, David Notley said:
"This has been a great project to be part of and we've loved seeing the art produced by the students at Winnall Primary School. They bring life and colour to the site and will brighten the day of those that walk past.

"Wates are committed to working with communities beyond building new housing stock.We want to inspire young people to consider a career in our industry in fun and creative ways, and ensure we're teaching the next generation about innovations that will bring down the environmental footprint of construction.

"We're utilising Passivhaus in a number of our new developments, including here in Winnall, to create energy efficient homes that are both comfortable and bring down costs for residents, which is so vital in today's economic climate."
A spokesperson for Winnall Primary School said:
"Winnall Primary school has loved collaborating with Wates. This project, and the wonderful artwork produced by the children, has brought people together and begun a shared story about the community in which we live and work.

"As the art was unveiled the children spoke about feeling 'famous', 'excited' and 'amazed' as they would never have imagined being able to see their own art, on this scale, on display, outside of school. It promoted in the children a sense of value and raised self-esteem as they spoke about how proud they were of the results.

"A huge thank you to Wates from the pupils at Winnall Primary school."