Chesil Lodge resident celebrates her century
A very Happy 100th Birthday to our Extra Care resident Mrs Alice Larden, who is celebrating her century this week (9 May).
Mrs Larden is a resident at Chesil Lodge, where the Radis Community Care team and the centre's staff including Extra Care Officer Claire Carroll arranged flowers and a special party to mark the occasion in addition to a cake and a birthday tea.
The Lodge is one of our Extra Care facilities where residents have their own flat with its own front door, plus support on hand if needed 24 hours a day. They become part of the Lodge's community with lots of opportunities to meet their neighbours and join in with social activities.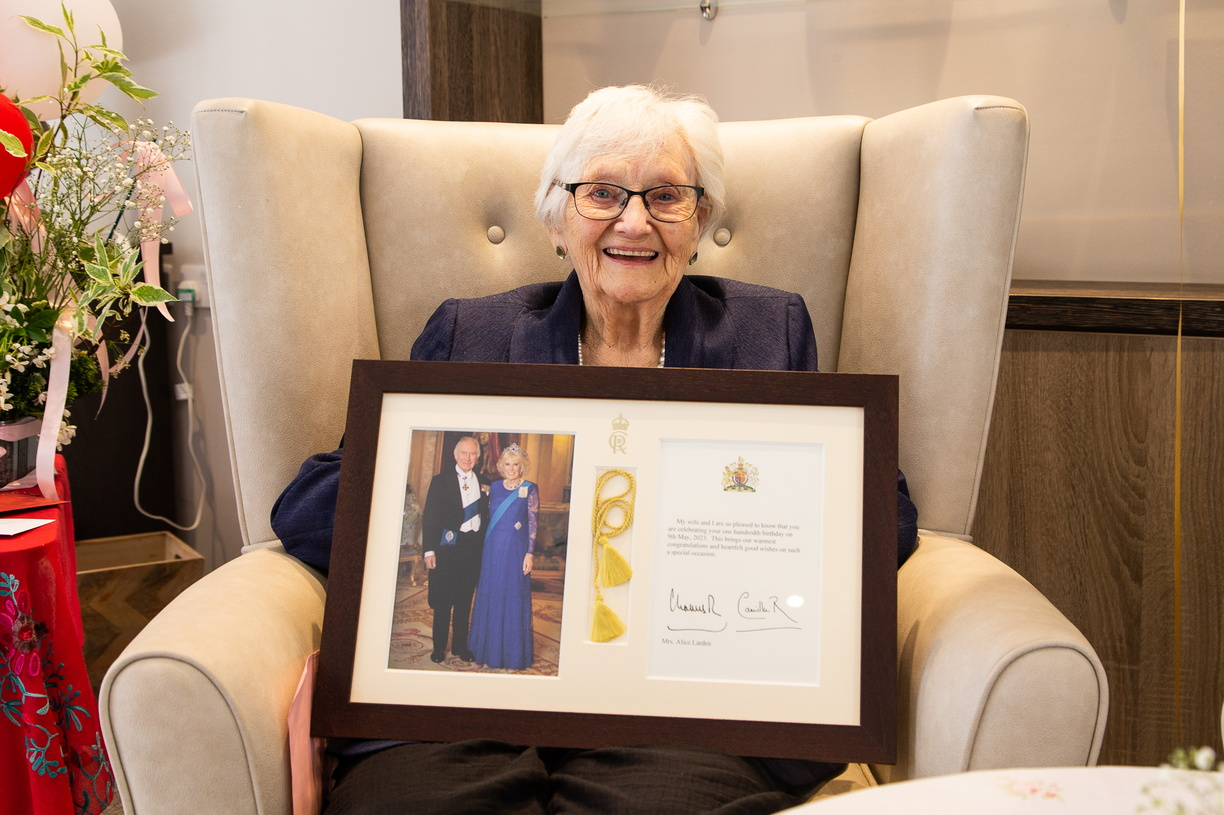 Born in London in 1923, Mrs Larden lived in the King's Cross area for most of her life. The eldest of four girls, she married George in 1941 and enjoyed a busy family life as a housewife caring for the couple's children Christine, Janet and Leonard. They moved to the Winchester area in 1989 for retirement and George passed away in 1993.
She shares her birthday with her youngest child Leonard, known as Len, who was born in 1948 weighing almost 11lb in a room with a view of St Paul's Cathedral.
Len lives in Oliver's Battery and visits his mum almost every day. He said: "Mother says that I was always her best and biggest birthday present! She has survived her three sisters, and her own mum died when she was a teenager, so a century is certainly a remarkable age to have reached. I joke to mother that the target we're going for is 111 so the plan is simply to carry on regardless."
Mrs Larden, who currently has six grandchildren and eight great-grandchildren, was evacuated to Ruislip during World War II whilst pregnant.
Her daughter Janet, who has lived in Denver, Colorado for 28 years, recalled: "Mum told us stories about a big country house being turned into a hospital, and walking over stiles and being chased by ducks when she was almost ready to have her baby, which you can imagine was quite uncomfortable!
"She made our dresses as children and she made her own wedding dress. Dad worked very hard and we were one of the first to have a television in our street. Throughout the years, she's been the go-to person in our family; she has always been very caring."
Chita Sunggay, service manager at Chesil Lodge, added: "We love looking after Mrs Larden; she has a real sense of humour and she's such an incredible lady. She's still able to touch her toes!
"We organised 100 cards to mark the occasion and they have been signed by everyone including her fellow residents, service users, health professionals, and staff. And it's only the second time we have seen the official birthday card from the Palace so that is very exciting. As long as we can make our residents happy, that's the important thing."
When asked about her birthday, Mrs Larden was positive about the experience: "I don't mind about being old; I feel fine."
If you have an assessed care need, are over 55 and struggling with daily activities in your current home but wish to remain living independently, you can find out more about our Extra Care Schemes on our website: www.winchester.gov.uk/extra-care