Boys need bins! Winchester first council to back the campaign
Winchester City Council has become one of the first local authorities in the UK to install incontinence bins in their men's public toilets — enabling men in the district who need to dispose of pads and other incontinence products to do so easily, safely, and with dignity.
According to prostate cancer UK, between 3-6 million people in the UK suffer from incontinence. As many as 1 in 3 men over 65 are estimated to have urinary incontinence in the UK – yet there are little facilities for men, as there are for women, in public places.
Winchester City Council has now placed hygiene bins in male public toilets across the district and including the Guildhall and its council offices.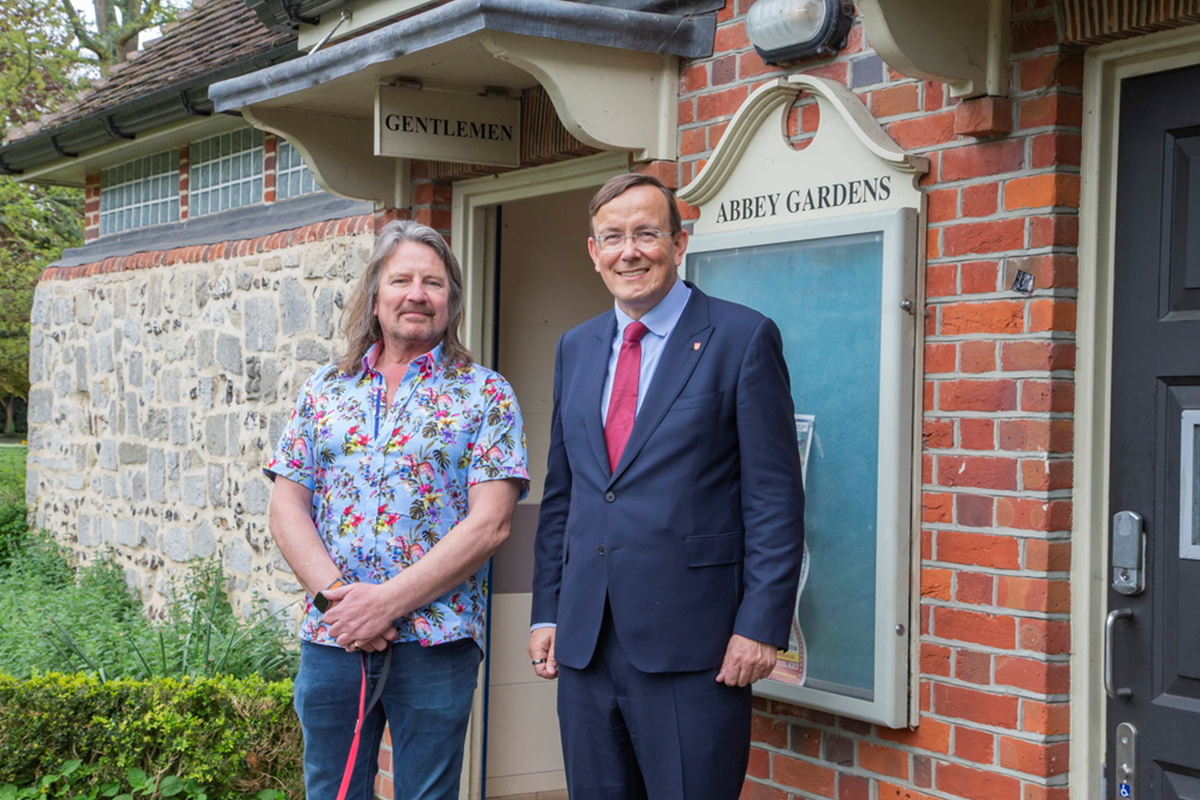 Council leader, Cllr Martin Tod, said:
"This is a subject matter I feel very strongly about. Men traditionally do not talk about personal issues which affect them, and when the facilities just aren't there either, this experience is compounded. This is something we want to change in Winchester – we added the bins this spring so that men who may be concerned about incontinence issues can visit our city and district with confidence and with dignity.
"I hope other local authorities follow suit and we are proud to support Prostate Cancer UK's Boys need Bins campaign."
Jonathon Hall lives in Hampshire and was diagnosed with prostate cancer in 2020. He decided to share an honest and comical account of his journey across social media and is an influential campaigner on male incontinence. He said:
"One of the side effects of my prostate cancer surgery has been to prolong my life, a hugely positive and life-affirming event. Another is incontinence, which in my case is hopefully temporary but, nonetheless, something I have to live with.
"Having somewhere where I can discreetly dispose of my incontinence pads in public is a necessity for me. It's an embarrassing situation, and one that Winchester Council has listened to. They've led the way with the installation of sanitary bins in boys' public loos.
"This is to be congratulated and I am eternally grateful to them for this. I hope other councils throughout the UK take note of this and do the same."
Chiara de Biase, Director of Support & Influencing at Prostate Cancer UK, said:
"Urinary incontinence isn't just a women's issue. Hundreds of thousands of men in the UK experience it, but their lives are being limited by the silence around male incontinence, and the fact that they often can't access basic facilities.
"I'm thrilled that Winchester City Council has become one of the first authorities in the country to place incontinence bins in their men's toilets, and I'm hopeful that more councils, businesses, and policymakers will see how simple and life-changing it is to make to make toilets more accessible.
"Prostate Cancer UK is here for every man, including those living with incontinence. We won't rest until we squash the stigma around this issue, spark a national conversation, and get bins installed in every toilet across the UK."
More information about Prostate Cancer UK's Boys Need Bins campaign can be found on their website. www.tackleprostate.org/boys-need-bins-campaign
The bins can be found in council-owned public toilets across the Winchester district, which includes Abbey Gardens, Market Lane, Discovery Centre, Coach Park, Chesil Multi Storey, St Catherine's P&R, South P&R, Bishop's Waltham, Wickham, Alresford & Denmead.