Student business owners put enterprise skills into practice for Global Entrepreneurship Week
Two young business owners from the University of Winchester put their enterprise skills to the test at Winchester market on Friday as part of Global Enterprise Week.
Business student Luke Allisstone and performing arts student Amy Bennett set up a joint stand in Winchester's busy Middle Brook Street, using the space to market their businesses STiTCH.LDN and Amy's Cutie Pies.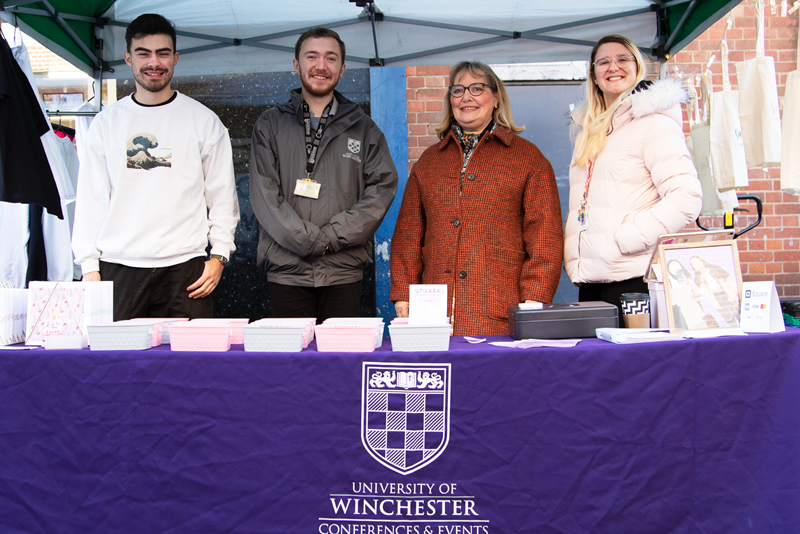 The use of the market stall was provided by Winchester City Council in support of the University's Enterprise Futures service, which provides support for student start-up and alumni businesses.
Speaking about the University's support of young businesses, Josh Armstrong, Enterprise Officer for The University of Winchester, said:
"It's all about reaching out to students and showing off what they can do. We've got loads of student businesses all from different sectors and different degrees, and we are trying to make sure that our students grow into good professional careers after they've gone.

"To put them in front of the people of Winchester, it shows that we are here to make a strong economic impact in society. Having the stall here gives us that visibility - we can speak to people walking past to say here are two of our student businesses who are going to support the local area."
Councillor Lucille Thompson, Cabinet Member for Business and Culture, visited Luke and Amy at the start of the day to see how they were making use of their space at the market.
Speaking about the initiative, and the students' businesses, Cllr Thompson said:
"As a council we're keen to support small businesses and retain local talent however we can - seeing Luke and Amy's vibrant businesses in full swing this morning has been a great reminder of the importance of young entrepreneurs to our local economy.

"In providing this market space, we're pleased to have been able to make a small contribution to the University's fantastic Enterprise Futures service. For start-up businesses, its projects like these that are fantastic for providing an insight into real business activity."