Partnership announced between Winchester College and Winchester City Council
Winchester City Council and Winchester College have signed a new partnership, committing to work together for five years to enhance the City of Winchester for the benefit of residents and visitors.
The city council and Winchester College are now engaged in a Memorandum of Understanding (MoU); which is an agreement that will see both parties focus on a number of shared priorities, including support for the College's move to become co-educational and available for day pupils, offering more options for local families and expanded bursary provision.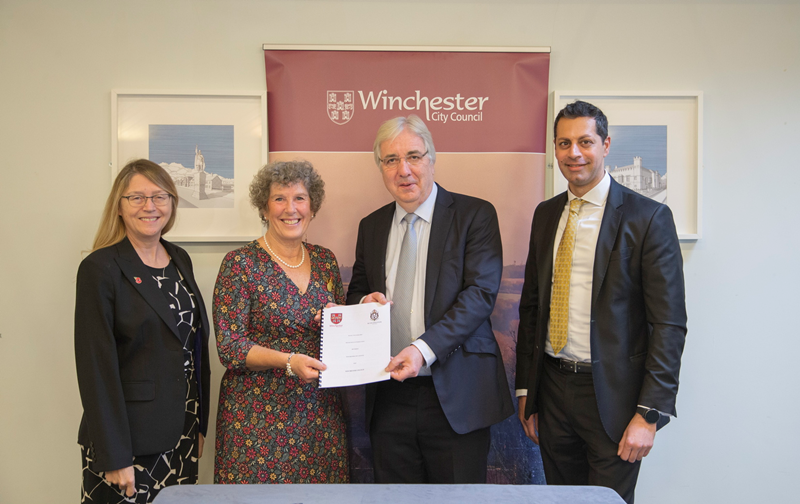 The collaboration will look to maximise the economic benefits arising from the College's position in the heart of the city, with continued involvement through the Business Improvement District.
The College will contribute to the priorities of the Winchester District's Sport & Physical Activity Alliance– by enabling continued community access to the College's recreational facilities.
The MoU underscores the common ground between both organisations, and other key focuses for the partnership including community service, heritage, and tourism. The partnership will further support the council's Carbon Neutrality Action Plan, exploring the potential for the College to become carbon neutral within five years.
Cllr Jackie Porter, Cabinet Member for Cabinet Member for Place and Local Plan at Winchester City Council, said:
"This partnership with Winchester College brings many social benefits to the city, and we're committed to pursuing our shared priorities to continue to make our significant contribution to the local area, seeking to make the city of Winchester an even more attractive place to live, work and visit."
Dr Tim Hands, Head of Winchester College, said:
"We are well placed to support the Council in continuing to make progress against the projects and actions set out in the Council Plan, such as creating a greener district, a vibrant local economy. We're delighted to enter into this partnership with the local authority, that will not only benefit key organisations in Winchester but extend the College's engagement with local residents and visitors."