Green-fingered council tenants take part in gardening competition
After all the upheaval of the pandemic years, members of Winchester City Council's housing team were delighted to see 12 residents lend their enthusiasm and creativity to the competition and produce gardens bursting with colour for all to enjoy.
The entrants' hard work has had a huge impact by brightening up whole neighbourhoods, strengthening community spirit and spreading the gardening bug to others.
The competition has also had other benefits for those taking part, with winners all reporting they enjoy better physical and mental health thanks to regular gardening.
Competition judge Councillor Ferguson, Deputy Leader and Cabinet Member for Housing & Community, joined the overall winner, Mrs Scott from King Harold Court, at a special afternoon tea to celebrate the win and present Mrs Scott's prize of £50 National Gardening vouchers.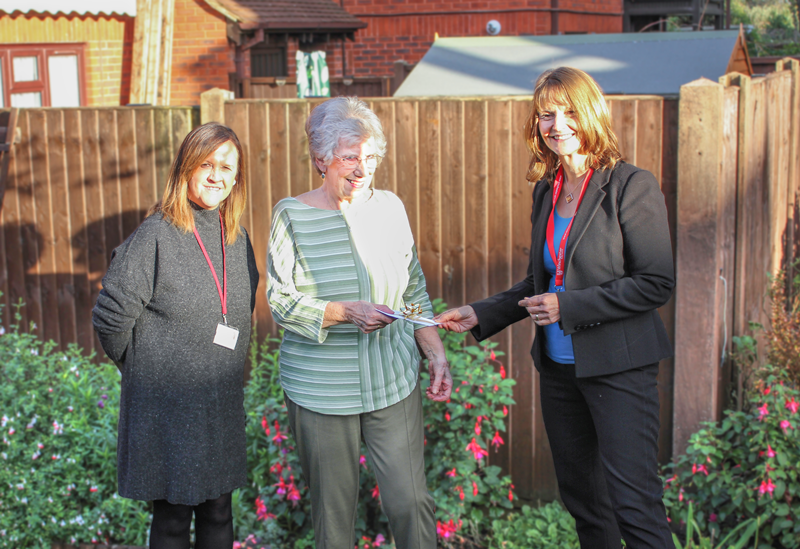 Speaking about her win, Mrs Scott said:
"I love gardening, it keeps me fit and active and I love knowing that the plants and flowers bring such enjoyment for my neighbours.

"My Father was a keen gardener and won the garden competition 5 years on the trot. I used to help him when I was a small girl, I hope he is proud of me."
Councillor Paula Ferguson said:
"The standard of entries was exceptionally high this year and it was hard to choose the winner. The thing that stood out most was just how much all our winners enjoy spending time in their gardens.

"They are proof that gardening is good for both your health and wellbeing – whatever your age or fitness level – and I hope their achievements will inspire many others to grow green fingers too."
Mr Percy from Normandy Court, Wickham and Mr Budd from Makins Court, Alresford won joint second prize and received £25 worth of vouchers each.
Mr Percy had created a tranquil space using containers and pots where he can sit and enjoy the peace and the sound of the birds, whilst Mr Budd had taken several weeks to clear the space under his window to create a colourful flower display.
Commenting on his involvement in the competition, Mr Budd said:
"Twenty years ago it would have taken me a couple of days to clear the area, but I was determined to make the space look pretty and inviting for other to enjoy"
Mr Renouf from Trussell Crescent won the container prize for his striking display of sunflowers.