Deputy Leader for Winchester City Council joins walk to draw attention to violence against women and girls
Deputy Leader for Winchester City Council joins walk to draw attention to violence against women and girls
The Deputy Leader of Winchester City Council, Councillor Paula Ferguson, together with other councillors, joined Hampshire charity Stop Domestic Abuse on Wednesday 30 November for a 1-mile walk to raise awareness of violence against women and girls.
The walk, which began from Hampshire County Council's Elizabeth II Court offices, was part of 16 days of action across Hampshire being led by Stop Domestic Abuse to highlight harm and violence against women.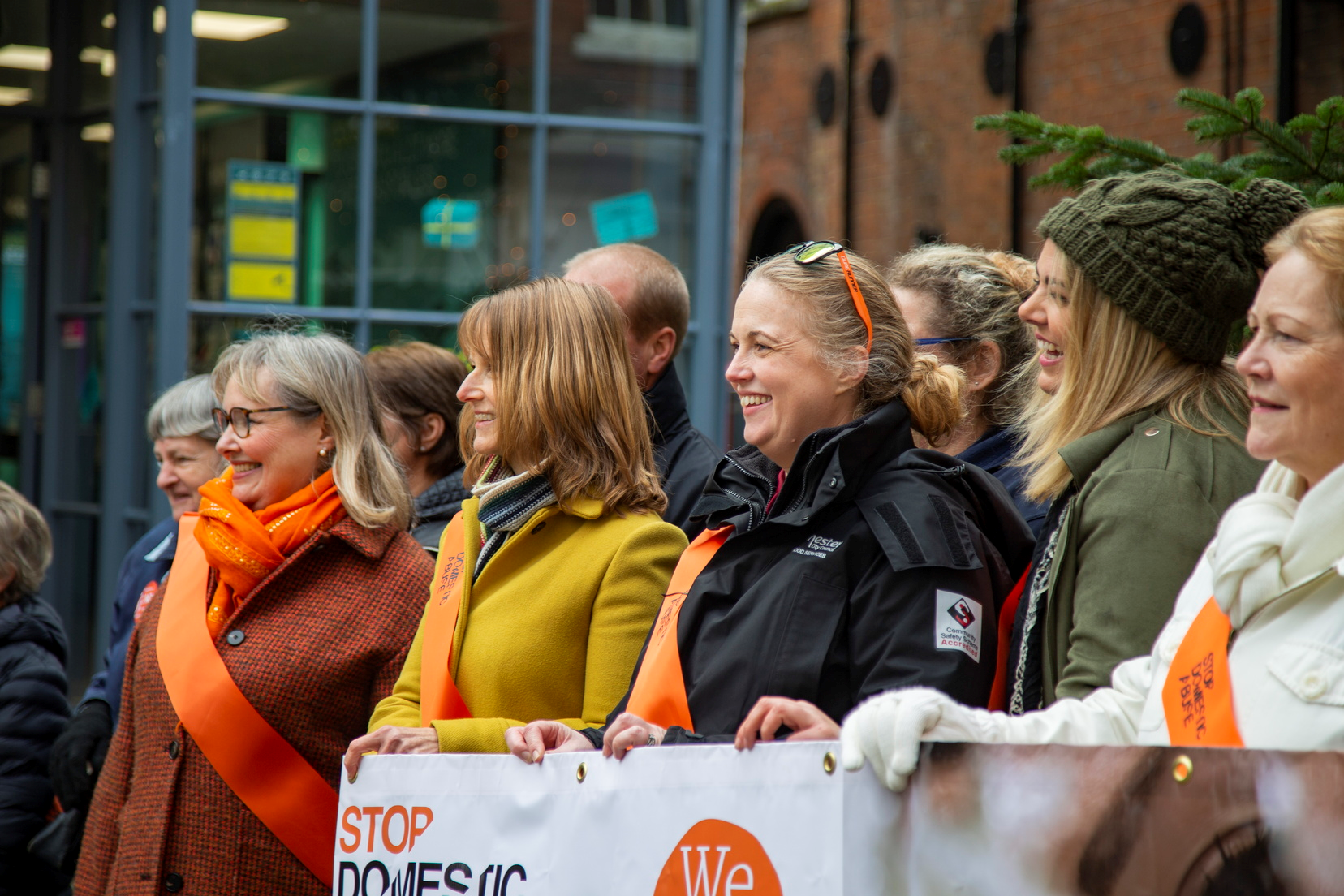 Speaking about the charity's actions, Cllr Ferguson, who is also Cabinet Member for Housing and Communities, said:
"Violence against women and girls, in any form, is unacceptable. By joining today's action alongside Stop Domestic Abuse, I hope we can bring attention to the cause and show that violence has no place in Winchester or anywhere else.
"The 1-mile walk is a small gesture compared to the level of risk faced by women across the globe - but we know that victims of domestic abuse can feel isolated and alone - so it's important to send the message loud and clear, however we can, that help is available."
Winchester City Council is part of Winchester's Community Safety Partnership, which is made up of public, private and voluntary sector organisations. The partnership's aim is to reduce crime and disorder and take a proactive stance against those who pose a threat to the feeling of safety across the district. One of its top priorities is to reduce domestic abuse in the Winchester District.
If you need support or advice, Stop Domestic Abuse offers a free confidential support service. You can contact their Advice Line on 0330 0533 630 or get in touch by email at advice@stopdomesticabuse.uk.
Help is also available for anyone affected by domestic abuse on Hampshire County Council's website at www.hants.gov.uk/domesticabuse and via their advice line on 03300 165 112.