Winchester Criterium and CycleFest – a celebration of all things cycling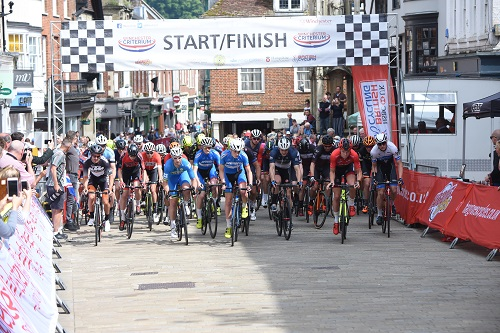 Central Winchester became a colourful festival of all things cycling on Sunday 10 June as Winchester's Criterium and CycleFest returned for a sixth year with its popular mix of cycling related activities and thrilling high speed races.
300 riders of all ages raced past iconic landmarks in the Winchester city centre circuit in a bid to earn Winchester Criterium winners' titles. The best local riders were also crowned South Region Circuit Race champions.
There were fun competitions throughout the day and over 1,000 cowbells rang as the racers sped through the streets of Winchester.
And it wasn't all about the racing - The Broadway and Abbey Gardens offered a fun, family-orientated day. The fun started with a South Downs National Park Family Ride that saw 500 cyclists trying the Criterium route around the centre of Winchester in a safe, traffic-free environment. Mascots Wonky the Woodpecker and the My Journey Bird greeted and entertained the children.
The hive of Cyclefest activity included roller racing, a Try-a-Bike area, bikes that blow bubbles, make smoothies and play music, recycled bikes, a bike skills loop, vintage cycles, countryside crafts, a bouncy castle and face painting.
Primary schools in the Winchester District took part in a competition to produce banners promoting cycling, sustainable travel and air quality. All nine entries were displayed on the Criterium route with the winners judged by the Mayor of Winchester, Cllr Frank Pearson. Cheriton Primary School were first with Westgate Lower School in second place and Bishop's Waltham Infants School third.
To help the cyclists reach the event, a special Park & Cycle facility at the South Park & Ride was laid on and a large bike parking area was created in The Broadway.
Cllr Lisa Griffiths. Winchester City Council Portfolio Holder for Health and Wellbeing commented from the event,
The atmosphere in the city today is electric. The breathtaking pace of the racing demonstrated the amazing skills of elite cyclists young and old - people have come here today from all over the UK to attend and compete.

This event is a fine example of the high quality activities that Winchester City Council supports to benefit the lives of local residents and encourage visitors to the district, supporting the local economy.