Local business champion scoops lifetime achievement award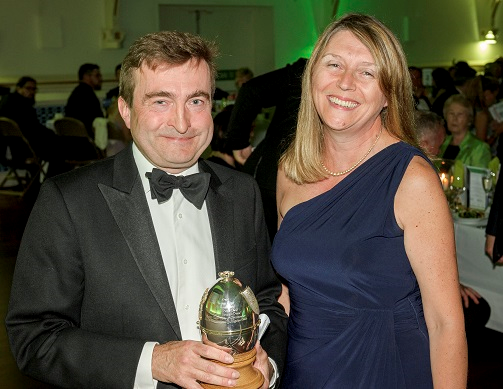 This year Winchester's prestigious Millennium Egg - a lifetime achievement award for commitment to local business - has been given to local businessman Paul Morgan, Managing Director of Warrens Office Limited.
Mr Morgan received the ornate egg at a glitzy Winchester Business Excellence Awards ceremony at Guildhall Winchester on Friday 1 June. The egg, crafted by Jeremy France Jewellers in 2000 and donated to Winchester City Council for use as an annual award, is presented to local people or organisations that have made a significant and sustained contribution to the economy of the Winchester District.
Winchester City Council's Chief Executive, Laura Taylor, handed over the award saying:
I am absolutely delighted to be giving this special award to a very deserving recipient.

Paul has been an active committee member of the Hampshire Chamber of Commerce for 25 years and was a Director of the Winchester Business Improvement District until March 2018.

He has made a significant contribution to the economy of the district as well as positively lobbying and advocating on behalf of businesses in the city centre and Winnall.
Paul Morgan added:
I am honoured to receive the Millennium Egg.

I feel privileged to have lived and worked in Winchester for the last 30 years.

Throughout this time the way we communicate and work with each other has evolved. What has remained constant however is the warmth of all the people I have got to know.

The business community is very important to the underlying health of Winchester and I hope it will continue to thrive, evolve and offer good local employment to many for years to come.
The Millenium Egg is displayed throughout the year with a collection of civic silver outside the Bapsy Hall at Guildhall Winchester.