Former antique market set to become arts venue run by and for independent creatives and the local community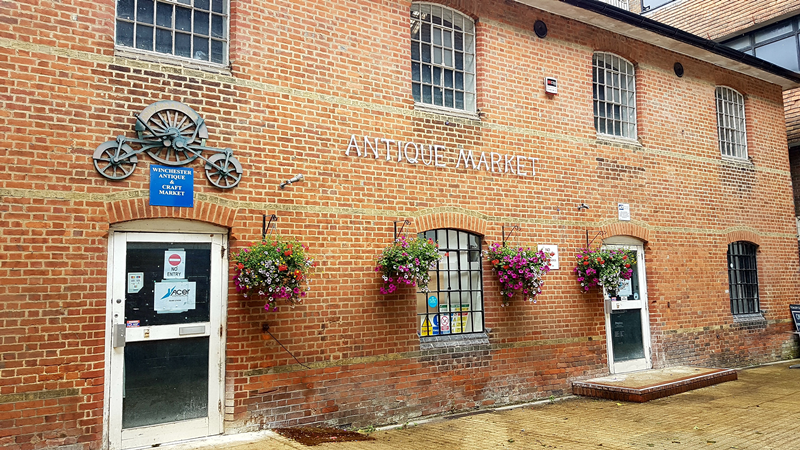 Winchester City Council is pleased to announce that the former Antique Market building is set to become an arts venue for theatre, music, arts and exhibitions thanks to the vision of three local creatives, Harriet Morris, Noël Jones and Anna Harding.
The newly-formed 'Nutshell Arts' Community Interest Company plan to re-brand the venue as 'The Nutshell' and offer it as an accessible place for creatives to use for rehearsals, workshops, exhibitions and small-scale productions; alongside resident companies the Discarded Nut Theatre Company and ENCORE Youth Theatre.
The former Antique Market is an industrial building that dates back to the 1890s and sits within the Central Winchester Regeneration area. Throughout public consultation and engagement, the Antique Market was cited as a building we should look after and bring into the foreground again; potentially for cultural, heritage or community use.
The Council has already approved funding of £25,000 to bring the vacant building back to life with The Nutshell aiming to fundraise £35,000 for essential building works and set-up costs.
Conservative Leader of the Council, Cllr Caroline Horrill, who is also Chair of the Committee responsible for the Central Winchester regeneration, said:
We are thrilled to have such a vibrant and exciting company take up residence in the Antique Market. We're committed to developing our existing buildings and refurbishing them to provide businesses with the space they need while the redevelopment proposals for the wider Central Winchester area are developed.

This company has a great community offering and has worked hard to develop their ideas of how they would use this space. I'm looking forward to seeing the resident companies and other artistes creating some inspiring theatre and music and to benefit from using the space for their projects and rehearsals. This is another example of the new opportunities being created by our commitment to developing the area and will certainly give the Kings Walk area of the city centre a new level of energy and interest.
The Nutshell will be run by Winchester-based Noël Jones and Harriet Morris (who run the highly respected Discarded Nut Theatre Company and ENCORE Youth Theatre) alongside Anna Harding (Winchester Jazz Festival Director and one-third of internationally acclaimed vocal harmony group The Spitfire Sisters'). They have worked with Richard Harrison of Snug Architects to ensure the space within the venue can be accessible to as many performers and creatives as possible.
Noël Jones explained why the new premises in the city is so important for the company directors and for Winchester. She said:
Since we set up the Discarded Nut Theatre Company eight years ago, we recognised how difficult it can be to find appropriate performance and creative space. This is an amazing opportunity to create a vibrant centre for the arts where people of all ages can come together for friendship, to be inspired, to create, to learn or to simply experience the wealth of diverse homegrown talent that exists in Winchester.

The two resident companies' work focusses on having fun, inspiring people and creating innovative high quality experiences for people of all ages. Its work includes drama and music workshops, projects and productions and it provides first-hand experience of working with a professional theatre company.
Harriet Morris added: "
We're really excited about this opportunity as it has been part of our wider vision for the last five years. This building is such a great space and will be a wonderful location for our work, the work of local creatives and the wider community. We plan to open for public hire from October 2018 but will be launching the opening of the venue in September, so keep a look out for details.
The company also employs newly-qualified arts practitioners in their first professional engagement as well as offering interesting and stimulating work-experience placements to our local secondary schools and sixth form colleges.
Anna Harding encouraged others to get involved:
We're laying the foundations so we can see what it'll grow into and how the space could be used. So, we would love for other creatives to come forward and talk to us about how they want to use the space
Anyone interested in hiring the space should contact Nutshell Arts at hello@thenutshellwinchester.com or visit their website www.thenutshellwinchester.com and social media platforms; Facebook, Instagram (@thenutshellwinchester) and Twitter (@thenutshellarts).