WINnovation event awards £12,000 to local projects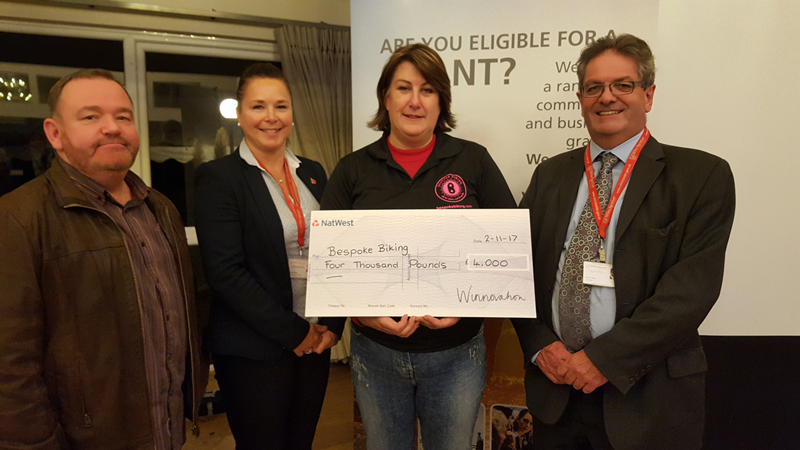 In a unique Dragons' Den style event, Winchester City Council distributed £12,000 to local projects at the popular WINnovation awards held on Thursday 2 November at Marwell Hotel.
The Council's first unique Funders' Den featured a panel of 'dragons', who heard pitches from 17 local voluntary and community groups. Eight organisations were shortlisted to pitch to five dragons – made up of a panel of people from a variety of community interest backgrounds. The event was co-funded by Winchester City Council and Tent on the Green, with support from Community First, Winchester.
Following an evening of representations the winners were Bespoke Biking, who won £4,000. Bespoke Biking is a social enterprise that encourages everyone to cycle. They offer cycle rides and training, bikes for hire plus a bike workshop which provides cycle servicing and repairs and refurbishes and upcycles abandoned or donated bikes.
Director of Bespoke Biking, Heather Evans, said:
We are really thrilled to have received this sum of money from the WINnovation fund. But to be awarded the winner among all these great projects was amazing. We are so grateful, as we have just moved into our own shop in The Brooks so our costs have increased. We hope we can build a great social enterprise that reaches out, offers affordable bike repairs and helps the community cycle more. This money will help us do this.
Cllr Steve Miller, Portfolio Holder for Estates & Community Grants said:
WINnovation is one of the many ways we award our grant monies throughout the year. At this unique event, local voluntary organisations are able to walk away with their grants on the night. The event offers organisations the opportunity to network throughout the evening and learn about other group activities in our district. Our congratulations to everyone who pitched at the event and particularly to Bespoke Biking.
Steve Abley, Director of Burn 24-7 and Tent on the Green said:
This type of face-to-face event is so exciting to be involved in. Not only do we get the chance to hear of the incredible work that volunteer groups and small charities are doing, but we also experience first-hand their dedication and are able to help them develop their vision. Both Burn 24-7 and Tent on the Green are involved in setting up a new charity called the King's City Fund to enable the City Council to increase and extend the scope of its grant provision.
Winchester City Council's next round of funding is now available and applications are invited from local voluntary and community groups, who can apply for up to £3,000 for a one-off activity, a new piece of equipment, a special project or community activity.
For information on how to apply, please visit winchester.gov.uk/grants