Special ceremony to open new affordable housing development at Hillier Way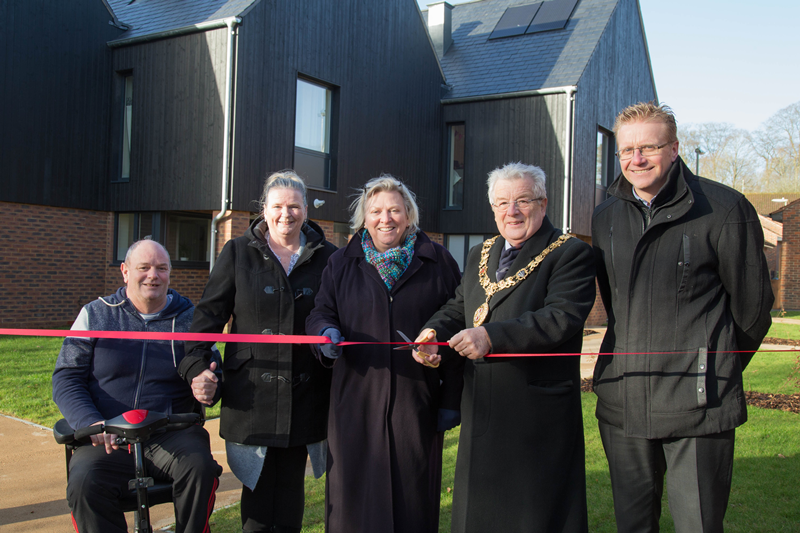 A Winchester City Council scheme for 13 homes and apartments at Hillier Way has officially been completed and a special ceremony has been held to mark the occasion.
The leader of Winchester City Council and Portfolio Holder for Housing, Councillor Caroline Horrill along with the Mayor of Winchester, Councillor David McLean opened the development. The unveiling of the scheme marks a progression for the Council – which has announced a that it has doubled its target to build 600 new homes by 2020. It is hoped a number of other schemes will be finished in 2018.
Planning permission was granted in February 2016 and contractors H H Drew started construction on the site in September that year. All of the homes at Hillier Way will be owned and managed by the Council, and will be leased at an affordable rent. The development includes three three-bedroom homes, three two-bedroom homes, three two-bedroom duplex houses and four one-bedroom apartments.
As part of the development a previously inaccessible site, adjacent to Hillier Way, has been transformed into a natural recreational area for the benefit of local residents and discussions are underway to make it the new home of the 6th Winchester Scout Group.
Portfolio Holder for Housing and Council Leader of Winchester City Council, Councillor Caroline Horrill said:
I am delighted to be here today to open Hillier Way which I hope will be one of many Council schemes that deliver affordable homes for local residents. This is central to what we are doing as a Council to ensure Winchester and the District can be a place where residents can comfortably live and work in. Throughout the project for Hillier Way we have consulted residents and also helped to improve the area by developing a natural recreation space which I hope will be enjoyed by residents for years to come.