Winchester District Sports Awards
Winchester District Sports Awards 2019
The Winchester District Sport & Physical Activity Alliance (SPAA) is pleased to announce the winner of The Winchester District Sports Awards 2019.
A teenage swimming sensation is among the local sports stars who have been honoured at a special awards ceremony organised by Winchester City Council.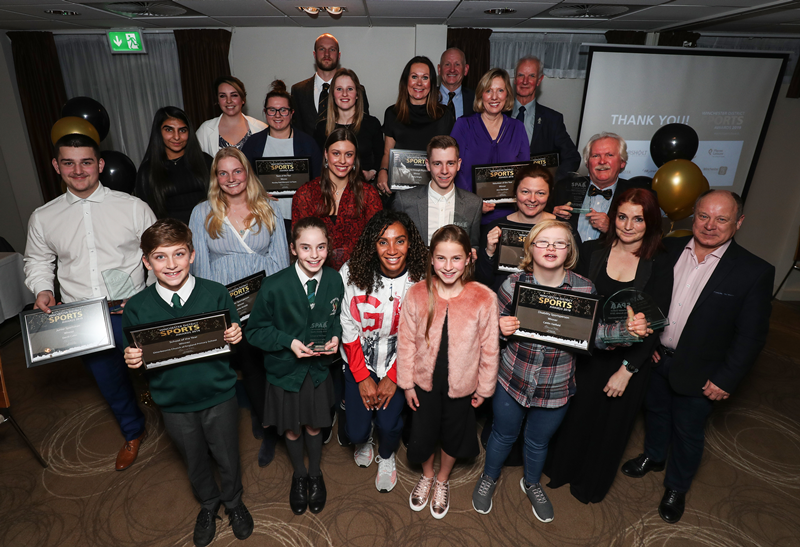 Kayla Van der Merwe, 17, who is tipped to represent Great Britain at this summer's Olympics, won Junior Sportswoman of the Year award for her incredible success at an international and national level. Kayla was one of several young sportsmen and sportswomen whose standout success was recognised in the 2019 District Sports Awards. Also heralded was Caitlin Hatfield who last year was selected for the first time into the GB team for the European Down Syndrome Swimming Championships, becoming the youngest member of the British team and competing in her first international competition.
Two extraordinary volunteers for both Winchester and Whiteley parkruns received awards for their tireless dedication to organising the popular weekly community running events.
Twelve awards were presented in total across a range of categories celebrating local sports champions, alongside teams and organisations that promote sport and fitness across the Winchester district.
The winners were handed their awards by two-time Olympian and GB sprinter Ashleigh Nelson, who took home silver in the 4x100m relay team at last year's World Athletics Championships in Doha.
Cabinet Member for Sport and Communities, Cllr Malcolm Prince, said: "Our award winners are truly inspiring. This year's nominations show that our communities are brimming with talented sportspeople and dedicated volunteers.
Several of our winners dedicate their time to help people of all ages and fitness levels to get more active. It is an especially exciting time for sport in the district as we look ahead to the opening of the new Winchester Sport and Leisure Park in early 2021, which will be a fantastic facility for all ages and all levels."
Kayla Van der Merwe, said: "I was really happy to be nominated and to win this award, and I was also really happy that everyone could recognise all the different sports in the Winchester district and how everyone is doing."

Full list of winners
Junior Sportsman – David Cutler (Winchester Boxing Club) David is the first ever junior heavy weight boxer to represent Winchester previously winning his competition in Great Yarmouth. He now hopes to represent Hampshire.
Junior Sportswoman – Kayla Van der Merwe (Winchester City Penguins Swimming Club) Kayla has exceeded all of her performance goals in 2019, winning multiple international medals, a maiden call-up to Great Britain's senior team. Kayla has been named both British Swimming's Emerging Athlete of the Year and Swim England's Swimming Talent Athlete of the Year.
Senior Sportsperson – Matilda Nicholls (Sailing - Andrew Simpson Watersports Centre) - Matilda Nicholls was recognised by the UK Sport Talented Athlete Scholarship Scheme (TASS) which awarded her with a TASS Star award and in last summer she joined the British Sailing team, winning the Laser Radial Youth World Championships.
Disability Sportsperson – Caitlin Hatfield (Winchester City Penguins Swimming Club) – In 2019 Caitlin was selected for the first time into the GB team for the European Down Syndrome Swimming Championships and was the youngest member of the British team, competing in her first international competition.
Coach of the Year – Zoe Baker (Winchester City Penguins Swimming Club) – Zoe has helped the success of Winchester City Penguins, and her role as head performance coach has ensured the club had the most qualifiers, finalists and medallists at the South East Regional Championships and also led four swimmers to the British Summer Championships.
Volunteer of the Year – Ann Stanhope (Winchester parkrun) – Ann is responsible for coordinating the volunteer group at Winchester's poplar parkrun which attracts on average 400 participants a week.
Service to Sport – Chris Westbrook (Hursley Park Cricket Club) and Roger Cooper (Upham Football Club) – Chris Westbrook has been involved with Hursley Park Cricket Club for 61 years, where he has spent 44 of those as head groundsman. Roger Cooper has had a major role in the success of Upham Football Club, and he was one of the villagers who reformed the club in 1974, since starting out as a player he has gone on to take various roles within the club.
Club of the Year – Winchester Rugby FC – With a membership of more than 1,000 people of all ages and backgrounds the club is continuing to thrive on and off the field, with the first team vying for back-to-back promotions.

Team of the Year – Hursley Park Women's Cricket Club – This team has been blazing a trail by winning the Southern Premier League for the first time, and the the London-based Ashford 8s competition, they also lifted the Kia Summer Smash. In indoor cricket, the team also won the league and cup double at the South Hants Indoor League and the Serious Cricket Indoor League.
Changing Lives through Physical Activity – Verity Wright (RunVerity) – Verity started a beginners running course in 2014 to those who felt nervous about sport and from this she created an inclusive group with an ethos of welcoming and accepting everyone. Since it was set up many members have gone on to take part in parkruns, 10k events and even marathons.
Making a Difference – Kim Achurch (Whiteley parkrun) - Kim is the event director for Whiteley junior parkrun and with her hard work, determination and support from local volunteers, she helps children to complete a 2km run, walk or jog every Sunday morning.
School of the Year – Otterbourne C of E Primary School – The school provides a wide range of sports clubs for pupils and also promote fitness initiatives such as the Daily Mile, where each class takes a short break to walk, jog and run around the playground.
Event sponsors:
Junior Sportsman – Kings School
Junior Sportswoman – Kings School
Senior Sportsperson – Winchester City Council
Disability Sportsperson – Winchester GoLD
Coach of the Year – Places Leisure
Volunteer of the Year – University of Winchester
Services to Sport – Places Leisure
Club of the Year – Sparsholt College
Team of the Year – Irwin Mitchell
Changing Lives through Physical Activity – ActiveMe 360
Making a Difference – Peter Symonds College
For further information please contact the Sport & Physical Activity Team on:
01962 848329 or sport@winchester.gov.uk
***Please note that shortlisting is based on the individual merit of each nomination and not the number of nominations received for each individual/club/team***