Carbon Neutrality Programme
The Liberal Democrat cabinet declared a climate emergency in June 2019. Winchester City Council is now committed to becoming a carbon neutral council by 2024, and the cabinet has ambition for the wider district to become carbon neutral by 2030. You can find updates on the pages below.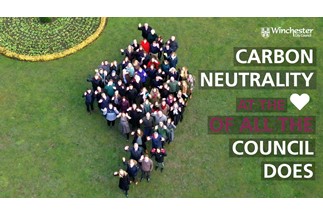 Over the past decade, the council's own carbon emissions have reduced by 23.6%, from 5,476 tonnes of CO2 in 2010 to 4,186.84 tonnes of CO2 in 2018. To tackle our current emissions, Winchester City Council is developing a robust plan to decarbonise its operations. However, the greater challenge will be to decarbonise the Winchester district.
In 2017, the Winchester district emitted an estimated 834,000 tonnes of CO2 emissions, a figure which includes the emissions generated from the M3 Motorway. This figure, although representing a 25.8% decrease from the 2005 Winchester district emission reading of 1,124,000 tonnes of CO2 emissions, will be a huge challenge over the coming decade.
Given the importance of keeping the global temperature increase below +1.5 degrees Celsius, as recognised by the Climate Emergency Declaration and reported by the IPCC report of 2018, Winchester City Council is acting now to engage with local and national partners to tackle the Climate Emergency.
Carbon Neutrality Programme details

| | |
| --- | --- |
| Cabinet Member | Cllr Hannah Williams |
| Start Date | 03/06/2019 |