Central Winchester Regeneration
The Council is seeking the comprehensive redevelopment of the central Winchester area. This section contains all of the latest information on the Central Winchester Regeneration project.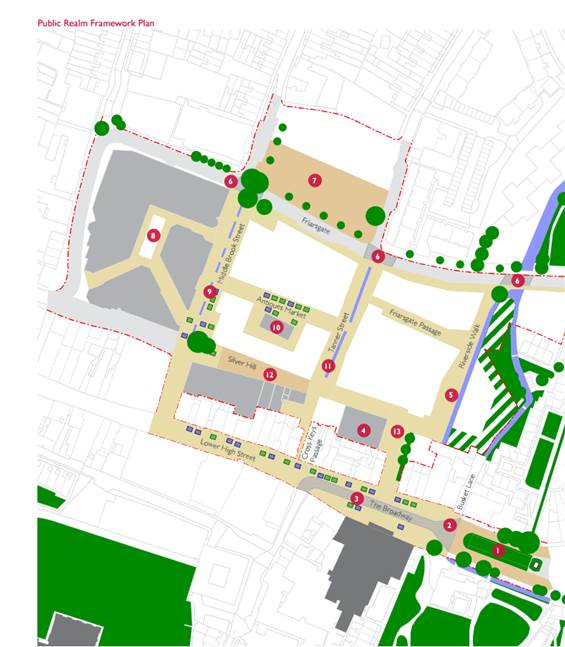 About Central Winchester Regeneration
There have been some exciting developments and improvements made with the regeneraton of central Winchester since the project was re-started with a community planning weekend in March 2017.
Since then the council has engaged with the community and other stakeholders to create a vision for the area. The site is 4.5 hectares including the bus station, the Broadway; the former Friarsgate Medical Centre; St Clements Medical Centre; Kings Walk; Friarsgate Car park; the former antiques market building and Woolstapler's Hall.
After a detailed and extended period of consultation the Supplementary Planning Document (SPD) which sets out the vision for the Central Winchester Regeneration project which was approved in June 2018.
You can access and download the SPD via the documentation web link.
Since the SPD was approved, different work is taking place to bring parts of the area to life and prepare other parts for regeneration.
Important stages of development in the area
Planters and barriers were installed on the High Street in November 2018, in keeping with local surroundings and to provide protection to pedestrians and businesses.
The council owned, former Antique Market was brought back into use as an arts venue, 'The Nutshell' in December 2018.
Henley Halebrown architects were appointed in December 2018 to design and refurbish Coitbury House.
Public information events were held to share knowledge about the archaeology in the area and give anyone interested the opportunity to ask questions and find out more in December 2018.
The BikeHub at the Open House Deli moved into the council-owned Old Post Office building in Middle Brook Street in December 2018.
A design brief for the public realm in the Broadway and the lower section of the Hight Street was agreed in January 2019.
A roadmap outlining the delivery of the project until 2022 was developed and presented to the Cabinet Committee on 22 January 2019
Approval of the RIBA stage 2 Concept Design for the refurbishment of Coitbury House and the progression to RIBA stage 3 developed design
Approval to procure additional external resource to support the in house team to develop the archaeology investigation project plan and specification for tenders for the archaeological investigations
Central Winchester Regeneration details

Cabinet Member

Cllr Kelsie Learney

Start Date

29/03/2016

Key Steps/Milestones

Current Status

Designs and plans underway for Coitbury House redevelopment.
Design and plans underway for the lower section of the High Street and Broadway public realm.
JLL have been appointed as Strategic Placemaking Consultancy to bring a cohesive and expert oversight across the projects in the district including Central Winchester Regeneration

Milestones completed

Cabinet Project Initiation: 29 March 2016 – completed
Inaugural IPG Meeting: 13 September 2016 - completed
Workshop to discuss the public engagement strategy: 3 October 2016 - completed
IPG Meeting on archaeology and discussion of brief to commission work: 18 October 2016 - completed
IPG Meeting on bus facilities: 8 November 2016 - completed
Commission urban design practice with experience in public engagement- November 2016 - completed
JTP, award-winning 'placemaking' practice of architects and masterplanners appointed - December 2016 - completed
Commission series of technical studies on key issues: November 2016 – Autumn 2017 - completed
Public engagement: February- March 2017 - completed
Community Planning Weekend - 24/25 March 2017 - completed
Engagement with stakeholder groups - completed
Vision for SPD - presented to IPG 4 July 2017 - completed
Preparation of and consultation on draft SPD: April - November 2017 - completed
Report of progress to IPG - 25 September 2017 - completed
Presentation of draft SPD to IPG - 30 October 2017 - completed
Bus station purchase by the council Autumn 2017 - completed
Approval to consult on draft SPD sought from cabinet - 6 December 2017 - approved
Formal consultation 11 December 2017 - noon 5 February 2018 - now closed
IPG held in public to share archaeology recommendations and consultation response themes - 19 March 2018 - completed
IPG held in public to share the consultation themes and actions - 14 May 2018 - completed
Overview & Scrutiny meeting to review the final draft of the SPD - 4 June 2018 - completed
Final SPD approved by Cabinet 20 June 2018 - completed
Final SPD approved by Cabinet (CWR) Committee 20 June 2018 passed and completed its statutory three month challenge period 20 September 2018
Coitbury House architect appointed for RIBA stages 0-4 - November 2018 - completed
Council acquired the land of the former Friarsgate Medical Centre along with buildings either side of the Bus Station entrance - December 2018 - completed.
Feasibility studies for Meanwhile Uses at the Bus Station have been completed.
Consultants have been identified as strategic advisors.

Latest Status

Members of the Cabinet (Central Winchester Regeneration) Committee met on 22 January 2019.

A roadmap for the project was presented to the committee.

The roadmap will evolve and change as the project progresses. It provides an overview of the potential timescale for the key stages of the project, including the design, planning and procurement of the development. It also includes investor marketing, funding sources and the overall delivery strategy, along with detail around key workstreams such as a new museum, the move of the bus station and ongoing improvements to the area ahead of the final new development.

The roadmap also shows how the construction phase could begin by the end of 2021.

You can access the roadmap here. (pdf, 3.5mb)

During the meeting the Committee gave its approval for:

A design brief and budget for initial design work for improvements to the Broadway and lower section of the High Street.
Experts to be appointed to undertake a business case feasibility study for a potential pop up hub on the un-used space behind the bus station.
Additional archaeology work to be identified and costed, including considering the value of water table monitoring across the site and undertaking ground penetrating radar surveys, both of which attendees to the archaeology events, held in December, felt were needed.

Last Committee Report

Cabinet (Central Winchester Regeneration) Committee 22 January 2019

For details on the Central Winchester Regeneration Cabinet Committee, it's members and it's meetings please see this link.

Next Steps

Design and plans underway for Coitbury House redevelopment.
Design and plans underway for the public realm at the Broadway and lower section of the High Street
Additional external resource has been procured to start supporting the in house team to develop a archaeology investigation project plan and specification for tenders for the archaeological investigations