Central Winchester Regeneration
The council is seeking the comprehensive redevelopment of the central Winchester area. This section contains all of the latest information on the Central Winchester Regeneration project.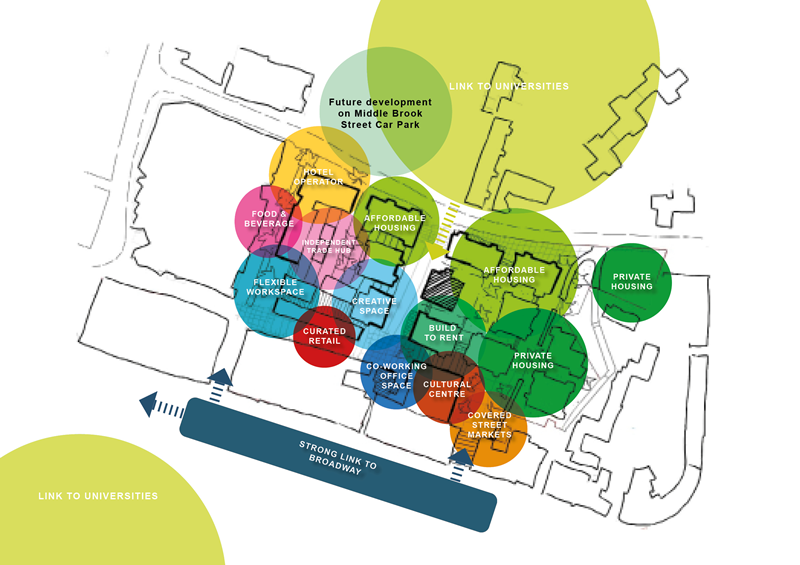 We held an online Open Forum to discuss the next steps on the Central Winchester Regeneration project on 5 July 2021. To see the presentation from the session please click here. (pptx, 6.2mb)
Climate Emergency
We are placing the climate emergency and newly adopted council plan at the heart of everything we are doing.
We will be looking at creative and innovative ways to embed this. We have shared thoughts around retention of existing buildings and no car parking and have given examples of how the preferred scheme is being developed with the climate emergency upfront and centre.
Movement Strategy
We are working closely with Hampshire County Council on options for the bus arrangements and will continue to do so. Atkins is carrying out stage one of the feasibility study, looking at several options that work for the regeneration of the site, the wider movement strategy and our partners at the bus operators.
Our close working relationship continues with all areas of the emerging studies under the Movement Strategy and again, concepts for the lower section of the High Street and Broadway remain flexible and can be delivered in phases as actions under the wider movement strategy evolve. You can find the Movement Strategy timeline here (pdf, 73kb).
Winchester Vision
A new Vision for Winchester outlines aspirations for how the city develops and grows over the coming years, overseen by the Winchester Town Forum. Our work with JLL is closely linked with the Winchester Vision.
Central Winchester Regeneration details

Cabinet Member

Cllr Kelsie Learney

Start Date

29/03/2016

Key Steps/Milestones

Milestones completed:

Cabinet Project Initiation: 29 March 2016
JTP architects and masterplanners appointed: December 2016
Engagement: February - July 2017
Bus station purchase by the council and improvement works: April - September 2017
Preparation of and consultation on draft SPD: April - November 2017
Formal consultation on draft SPD: 11 December 2017 - 5 February 2018
Final SPD approved by Cabinet: 20 June 2018
Archaeology public information event: December 2018
Council acquired the land of the former Friarsgate Medical Centre along with buildings either side of the Bus Station entrance: December 2018
The council owned, former Antique Market was brought back into use as an arts venue, 'The Nutshell': December 2018
JLL appointed as Strategic Placemaking Consultancy to bring a cohesive and expert oversight across the projects in the district: May 2019
Concept design produced for the lower section of the High Street and Broadway public realm: January 2020
Scheme options for the CWR area developed and shared with members, stakeholders and the public for feedback: January – March 2020
ARCA Geoarchaeology appointed to carry out pre-development archaeological investigations: June 2020
Consultation on draft development proposals undertaken 11 November 2020 - 12 January 2021
Short term measures including improvements to the ground floor of Kings Walk and the surrounding public realm, and creating an attractive temporary open space on the site of the old Friarsgate Medical Centre approved - March 2021
First stage in the formal process of business case development, the Strategic Outline Case (SOC), approved - July 2021

Latest Status

Latest Status

Appointed archaeology consultant, ARCA Geoarchaeology, undertaking pre-development investigations on the site
Working with Hampshire County Council and bus operators to develop bus solution
Cabinet approved short term improvements to the ground floor of Kings Walk and the surrounding public realm, and creating an attractive temporary open space on the site of the old Friarsgate Medical Centre.
The Strategic Outline Case (SOC) has been approved which is the first stage in the formal process of business case development

Last Committee Report

Next Steps

Progress short term improvements to the ground floor of Kings Walk and the surrounding public realm, exploring the inclusion of event space, new outdoor spaces for eating and improved seating
Create an attractive temporary open space on the site of the old Friarsgate Medical Centre
Prepare an Outline Business Case to look in more detail into the delivery route and financial viability of the development proposals