Winchester Sport and Leisure Park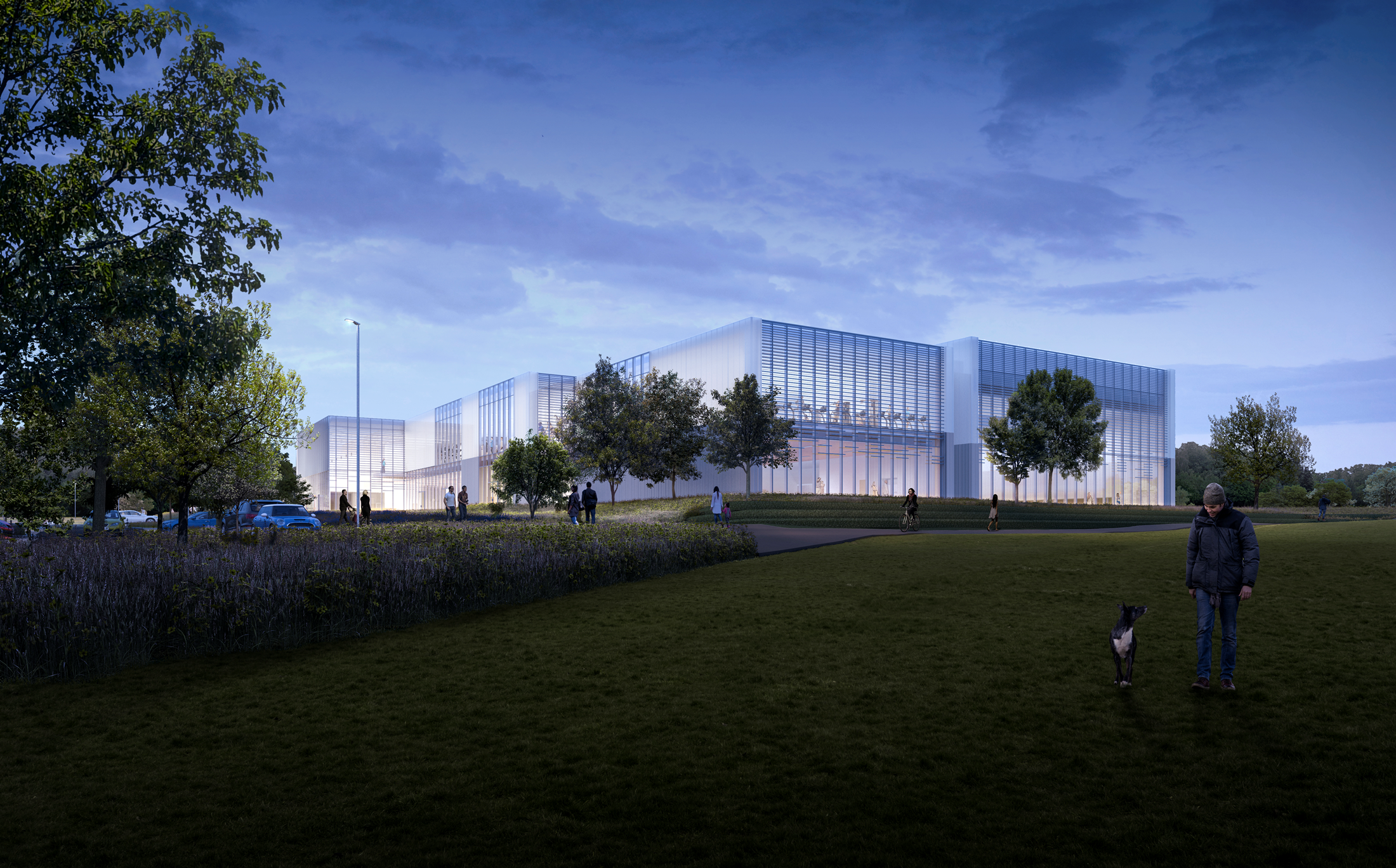 River Park Leisure Centre is now more than 40 years old and its capacity to meet the needs of a growing population in Winchester is limited. The Council has looked at various options for replacing or refurbishing it and has decided that the preferred option, if it remains affordable and deliverable, is to build a new Leisure Centre at Bar End.
A new Leisure Centre at this location will cost in the region of £38 million. The Council and lead architects Stride Treglown, carried out extensive consultation with local residents, sports groups, experts, national government bodies and Sport England to shape and inform the planning application, with approval recommended by Planning Committee in October 2018. We hope to start construction in 2019, with completion in 2021. The Council is working with a number of partners to deliver the new Leisure Centre including the University of Winchester, the Pinder Trust and Hampshire County Council.
The facility mix for the Leisure Centre includes a 50m swimming pool, a separate teaching pool with movable floor, an eight court sport hall, four squash courts, 200 gym stations, two large studios and one spin studio. There will also be a hydrotherapy suite and eight treatment rooms along with a clip and climb facility.
You can get up to date with all of the latest news by reading our latest project broadsheet (pdf, 4.7mb).
If you would like any further information then please email your enquiry to leisurecentreproject@winchester.gov.uk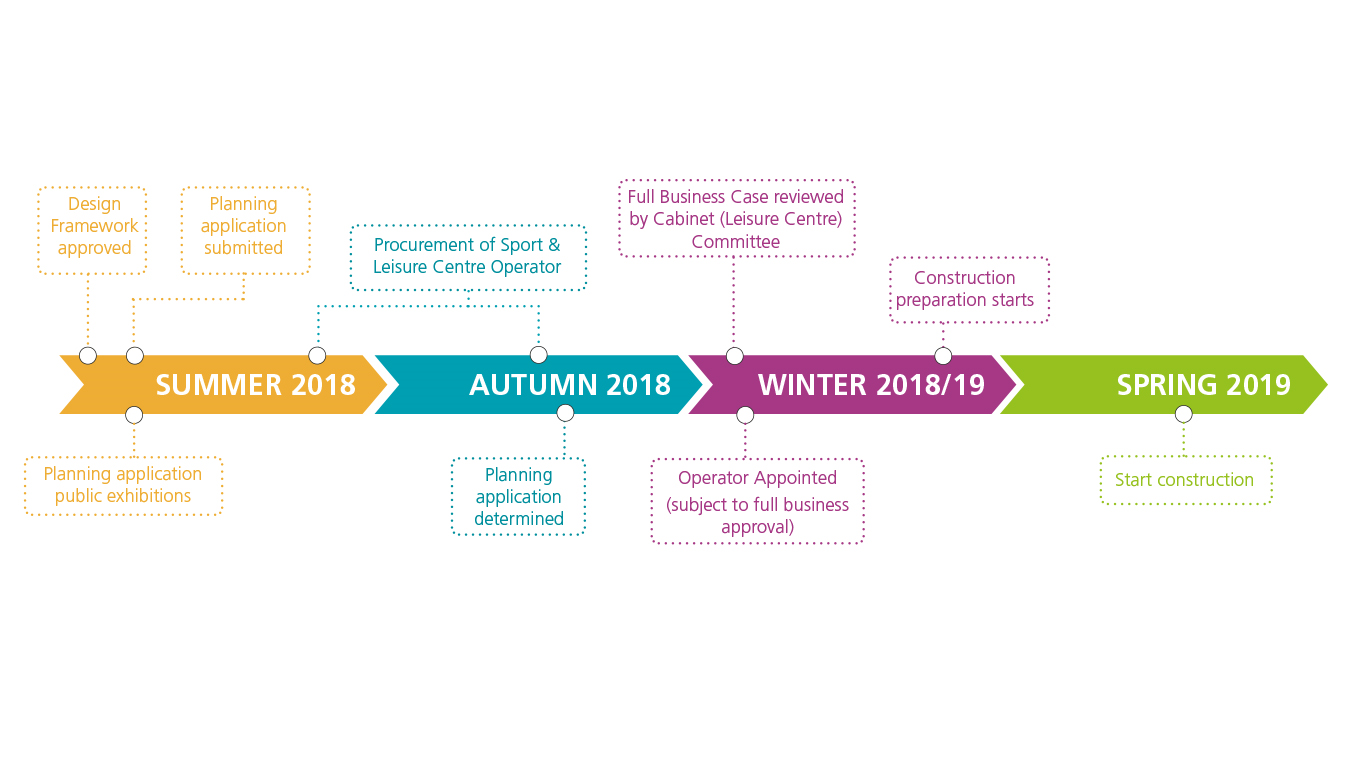 Winchester Sport and Leisure Park details

Portfolio Holder

Cllr Lisa Griffiths and Cllr Guy Ashton

Start Date

01/05/2013

Key Steps/Milestones

Approval of outline business case - January 2018
Building contractor selected - Summer 2018
Start procurement process for Leisure Centre operator - Summer 2018
Prepare and seek planning permission, with accompanying public exhibition - Summer 2018
Planning application decision - October 2018
Approval of full business case - Early 2019
Start on site - 2019
Completion - 2021

Latest Status

On 31 October 2018, the Planning Committee recommended approval for the Sport & Leisure Park.

A procurement exercise to select an operator to run the Centre is currently underway, and we will be reporting to our Sport & Leisure Park Cabinet Committee with the outcome of this process in January 2019. We will also report to the same Committee at a later date with the full business case for the project and Members will make the final decision as to whether or not the project will start in Spring 2019.

Read our latest broadsheet - November 2018 (pdf, 1.8mb)

Consultation

To help us understand our community's needs, aspirations and concerns we have held 4 detailed phases of engagement with residents, interest groups, sports clubs, community groups and experts before planning was submitted.

To date we have -

received input and feasibility studies on location, sports provision, ecology, landscape, transport & flooding.
held 16 separate events in 6 locations
noted more than 750 conversations
received more than 1000 survey responses

We continue to consult with local sports and interest groups, National Governing Bodies and Sport England.

Planning Application Exhibition

An exhibition of planning application was held on 25, 28 & 29 June. The exhibition boards are available to view online.

King George V Playing Fields

A drop-in event was held on 17 July to kick off the consultation on King George V playing fields which includes a feasiblity study for a new sports pavilion and an outdoor exercise area funded by Allegra's Ambition.

Last Committee Report

Next Steps

We are actively looking at -
• residents on-street parking restrictions in Bar End / Highcliffe areas
• the feasibility and options for a new pavilion on King George V Playing Field
• options for how bus routes/ services could be altered and or enhanced
• pedestrian access to the Sport & Leisure Centre from Milland Road

Building contractor

Willmott Dixon has been appointed as the building contractor for the project, subject to Full Business Case approval.

Operator Procurement

The tender process to appoint a Leisure Centre operator is underway and the outcome will be discussed at Cabinet (Leisure Centre) Committee on 14 January 2019.