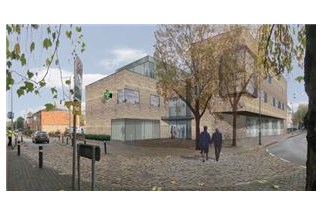 This project is to build new premises for the existing St Clements G.P., currently located in Tanner Street. The scheme to relocate the surgery to the site of Upper Brook Street car park received planning approval in 2016. The replacement surgery design is closely based on the design that previously received planning approval but incorporates some changes to reflect the current needs of the Practice.
If you have any questions regarding this project, please email stclementssurgeryproject@winchester.gov.uk
Please see the exhibition panels at the bottom of this page showing the emerging designs of the new surgery.
St Clements Surgery details

Cabinet Member

to be confirmed

Start Date

01/02/2016

Key Steps/Milestones

Status - Under Review

Prepare and seek planning approval – 2015 *
Planning permission approved – March 2016
Detailed design - 2016/17
Construction – estimated 2018
Building completed - estimated 2019

*the original scheme, for the same site, received planning approval in 2012 but this planning permission expired in 2015

Latest Status

Negotiation with the St Clements practice and NHS England to securing an agreed rent and lease terms which would enable the Council to proceed with the construction of a new surgery for occupation by the St Clements GPs

Consultation

Continued communication with St Clements practice regarding the detailed design of the new facility

Last Committee Report

(Link here (pdf, 52kb))

Next Steps

Detailed design of facility

Further Information

Plans for the approved design:

Further documents are relating to this planning application are available on City Council's planning portal.

The attachments below show the exhibition boards from the public exhibition on the scheme in November 2015.