Flood Alleviation Scheme - Durngate Terrace and the Trinity Centre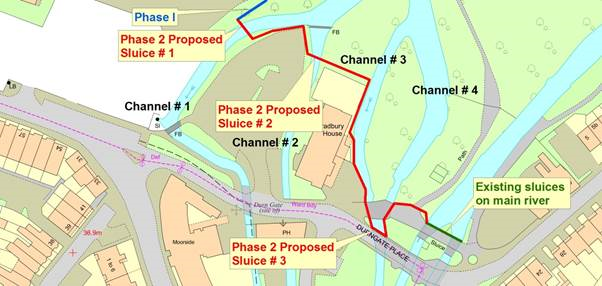 The second phase of the North Winchester Flood Alleviation Scheme will be undertaken around Durngate Bridge, the Trinity Centre and Durngate Terrace. This is a jointly funded scheme between Winchester City Council and the Environment Agency.
For more information or queries please email floodschemes@winchester.gov.uk
Durngate Flood relief scheme – Working hours update
We're working hard to complete the construction of the flood defence scheme and are on track to do so this winter, despite the impact COVID-19 has had on the project. For a number of ecological reasons, we must ensure we have finished our work in the river by the end of November. This means having to increase our working hours and there may be the possibility of people working on site for extended hours – 7am to 11pm – to help get the defences finished.
As the nature of the work is very dependent on environmental factors, the period of these extended hours very much depends on how well the work goes during the day. We'd like to reassure nearby residents that both noise and light will be kept to a minimum out of hours through the use of silenced generators and shielded lights. Our contractor, Knights Brown, works as a responsible neighbour and will be delivering information to all our affected residents which will provide contact details should you have any further questions.
In addition to these extended hours, there is a possibility of a short period of 24hr working over Saturday 28 and Sunday 29 November to make sure the scheme is completed on time. This is not confirmed, but may be necessary depending on the environmental impacts during the rest of November. We will do everything we can to avoid this happening, but if it's unavoidable, we will let people know directly nearer the time.
For further information, email Knights Brown on durngateFAS@knightsbrown.co.uk or call 07767 496 061
Flood Alleviation Scheme - Durngate Terrace and the Trinity Centre details

Cabinet Member

Cllr Jackie Porter

Start Date

05/09/2016

Expected End Date

31/12/2020

Key Steps/Milestones

The first phase for the flood alleviation scheme for Park Avenue/St Bedes is now complete. We are now looking to undertake the Phase II flood alleviation works around Durngate Bridge, the Trinity Centre and Durngate Terrace to complete the flood defences across the North of Winchester.

Latest Status

Site investigations, ecological surveys and an Environmental Impact Assessment have been completed, detailed flood modelling, design and planning permission is currently underway. Due to poor ground conditions found during the site investigations an extra £500k of developer CIL contributions has been allocated to the project.

A planning application for the phase II flood alleviation works was submitted to Hampshire County Council and the South Downs Nation Park Planning Authority in April 2019. View the applications here:

Phase II of the Winchester Flood Alleviation Scheme will begin in June 2020 and will involve various flood defences being built along the River Itchen near the Trinity Centre, including three sluice gates. These works will help the Council control and maximise the flow of water safely through the city, and as a result will help protect multiple residential and commercial properties throughout the city centre.

Consultation

A public consultation for the Durngate FAS took place Tuesday 19 and Wednesday 20 March in the Courtyard, Guildhall Winchester in conjunction with Hampshire County Council and the Environment Agency.

View the consultation information panels here (pdf, 3.5mb)

Next Steps

Construcion works for Phase II will commence in June 2020.
Durngate car park will be closed during the duration of these works to enable two of the three gates to be installed, but also to act as a site compound for the contractors working on site.
The initial first stage of the works will include the removal of Japanese Knotweed.

Further Information

The construction works will be carried out fully in line with government guidelines on COVID-19. This means that there will be social distancing in place, and high levels of hygiene practices in place to safeguard people working on the site and passers-by. All efforts are being made to minimise disruption for local businesses, and residents. Careful planning is taking place to protect wildlife in this sensitive and special area.
Correspondence detailing these works have been sent out to local businesses, and residents. However if you do have any questions or comments, then please email them to floodschemes@winchester.gov.uk