Patronise Parchment Street - Winchester Independents Weekend
Parchment Street
Cupboard Of Health & Piecaramba are hosting a mini festival! Patronise Parchment Street - Winchester's Independents Weekend is a two day event to be held on Friday 26th & Saturday 27th May. The event is to raise awareness and patronage of the unique, independent businesses on the street and celebrate its rich history.
Dates
May 26th 2023 at 09:45 - May 27th 2023 at 17:00
Event details
Address:Parchment Street
Winchester
Contact Information:01962 866108
Description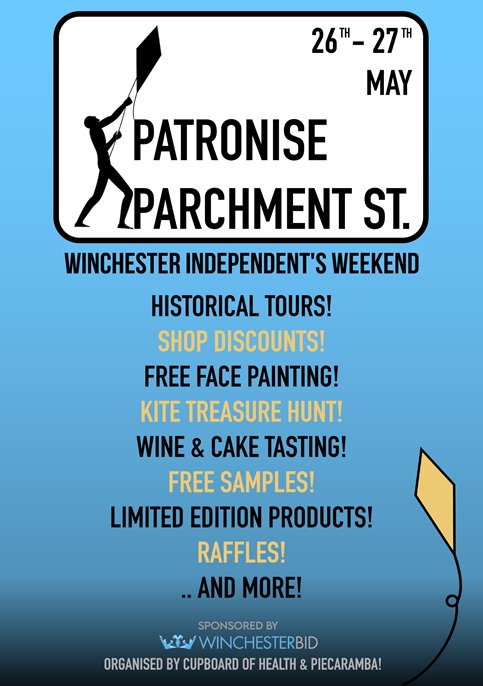 Lots of Parchment Street businesses are offering specials on both days such as discounts, samples, free drinks and nibbles, raffles and produce tastings. On Friday local guide Clare Dixon will offer two Parchment Street historical tours. Tours will start from WHSmith at 12.30pm and 2.30pm and can be booked at the Cupboard of Health for £3 per person. On both days kites designed by local children from Anna Devlin's Sunnyside Art Club will be displayed in windows and form a free to enter treasure trail. Collect entry forms for the kite trail from the Cupboard Of Health and returned completed forms will be entered into a prize raffle.
Free face painting by Mrs Miles Magic will be available from 12.30pm to 4.30pm on Saturday in the covered dining area by Piecaramba. Below is a list of what businesses on Parchment Street will be offering;
- Cupboard Of Health will be offering 20% discount on selected lines, free samples & nutritional advice.
- Piecaramba will be offering a special 'Parchment Street Pie' for the weekend.
- Toscanaccio will offer wine tasting. - Frieda's Tea Rooms will offer cake tasting.
- James Jewellers will offer 20% discount on most lines.
- Forte Kitchen will run a special offer.
- Donna Laine will offer free ring cleaning (1 piece only) and 10% discount on all lines.
- Diamantina, will offer 20% discounts on most lines.
- Ellie and Bea will have a special offer.
- Enigma Hair Design will offer a raffle.
- New Energy Yoga will offer a raffle.
- Asgard Piercing & Tattoo Studio will offer buy one get one free piercings.
- Earthian will run a raffle which will be free to enter with a purchase in-store.
- Oxfam will offer a discount on children's books.
- Angus Podiatry will offer 10% discount on future appointments and free tea, coffee and cake on Saturday between 1pm - 5pm.
Transport
By Bus:Solent Blue Star No.1
By Train:South West Trains
Accessibility

Access for wheelchair users

Assistance dog

Positive about disabled