A Christmas Tour of Abbey House
Winchester Visitor Information Centre
A Christmas Tour of Abbey House (Adults only).
Date
December 6th 2023 at 14:30 - December 6th 2023 at 16:00
Event details
Address:Winchester Visitor Information Centre
The Broadway
Winchester
Tickets:£15 (including a donation to the Mayor's charities)
Contact Information:01962 840 500
Tourism@winchester.gov.uk
Description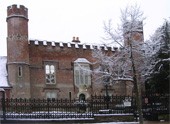 This tour offers a brief history of the house and its evolution over the years up to its acquisition by Winchester City Council plus its history during WCC ownership until it became the official Mayor's residence in1893.The tour will visit the principle rooms within the house focusing on their use and particularly on the many and varied contents many of which have particular links with the house itself. Visiting the upstairs will not be possible for wheelchair users.
There is a chance to meet with the Mayor, see the Mayor's regalia and ask questions about the role. Mulled wine and mince pies will be provided.