Children's Walking Tour around Winchester (16 Aug, 26 Oct)
Winchester Visitor Information Centre
A Guided Tour of Winchester for Children and their Families.
Date
October 26th 2023 at 14:30 - October 26th 2023 at 16:00
Event details
Address:Winchester Visitor Information Centre
The Broadway
Winchester
Tickets:Adults: £10 Children: £4
Contact Information:01962 840 500
Tourism@winchester.gov.uk
Description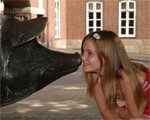 The Horrid Histories tour is a thought provoking but light-hearted stroll through many of Winchester's tales of death, punishment, execution, torture, plague, witches, ghosts and poo. Horrid accounts, myths and legends as well as factual, documented and above all horrible descriptions, all from Winchester's ancient, medieval and modern history. It is all aimed at children 6-12 years old. You will walk no more than 1.5km.