'Star of Wonder' - Sound and light show by Luxmuralis
Winchester Cathedral
Tuesday 13th - Sunday 18th December. The award winning artistic collaboration known as 'Luxmuralis' are back with a spectacular Christmas illuminations inside Winchester Cathedral entitled : 'Star of Wonder'.
Event details
Address:9 The Close,
Winchester
Contact Information:01962 857 275
Description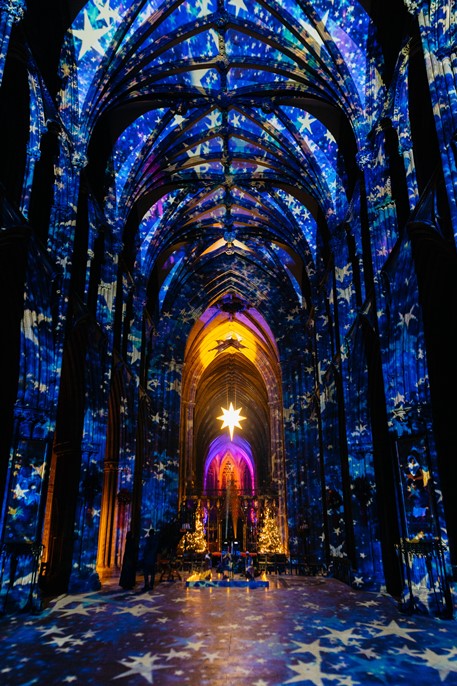 All set to transform Winchester Cathedral throughout the interior with stunning sound and light artwork, Luxmuralis will begin this years Christmas celebrations taking viewers on an uplifting journey for visitors to experience. Projections with bespoke music transform the historical architecture.
It promises to be a stunning experience for the whole family and the perfect start to the Christmas season. At the beginning of the year Winchester Cathedral hosted 'Science ' light spectacular which saw thousands attend from miles around and thoroughly enjoyed being immersed in the extraordinary son et lumiere that filled the majestic sacred space. Now Luxmuralis is happy to be back with this stunning Christmas show for all ages 'Star of Wonder.'
Artistic Director Peter Walker says: "We are delighted to return to the Cathedral and present this awe inspiring work this Christmas. Visitors will enjoy being immersed amongst the stars, walk through mesmerising sound and light installations and see the 'Light of Hope'Star' sculpture which will take centre stage. We look forward to working again with the Cathedral team and seeing individuals and families enjoy this uplifting light show and beautiful music." Previous responses from viewers: 'I think it's really elaborately thought out, like you look at it and you feel the Christmas mood, you feel happy and joyful, to be around with the people you love, so yeah it's a really nice experience.' 'it's nice and special for Christmas time it's great to be with all the family, it's a lovely time I recommend it.
Timed ticket slots ensure no crowding, giving you room to move around and enjoy the experience. Once you have entered the event, you can walk around at your own pace and enjoy the experience in your own time.
Booking opens 15th August at 10am, at this time you'll be able to book online, by calling the the Box Office on 01962857275, or in person at the Box Office Desk inside the Cathedral. All carers can claim free entry when accompanying someone with a disability, call the Box Office on 01962857275 to book your free carer tickets.
Photo and video credit : Luxmuralis. Please note that photos used may reflect different events at other cathedrals, so the show may differ slightly. For more info including accessibility please visit the event listing on the Winchester Cathedral website.