Science Starz
Winchester Science Centre
The contestants are ready. The judges are waiting. It's 2002 and Winchester Science Centre are going back to where it all started. It's Science Starz, a science show like you've never heard before!
Dates
October 2nd 2022 at 09:30 - October 2nd 2022 at 17:00
October 8th 2022 at 09:30 - October 8th 2022 at 17:00
October 9th 2022 at 09:30 - October 9th 2022 at 17:00
Event details
Address:Winchester Science Centre
Telegraph Way
Winchester
Tickets:Included in general admission
Contact Information:info@winchestersciencecentre.org
01962 863791
Description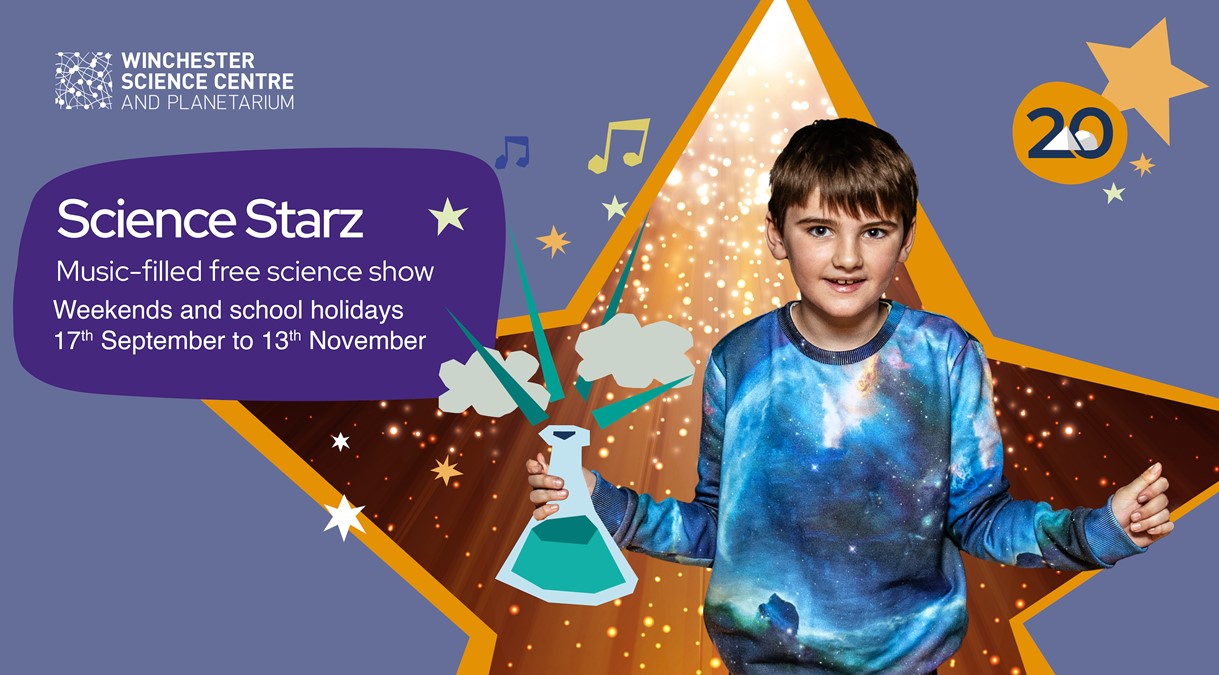 In 2022 Winchester Science Centre is celebrating 20 years of wow moments. This Autumn, it's your final chance to take a trip down memory lane with us with the final show celebrating some of the best show themes and demos from the past 20 years – all with a retro 2002 twist. The last stop is sound. Back in 2002 the music scene was dominated by singing talent show winners. Shows like Pop Idol produced the highest selling singles year on year. Music styles started to converge with contestants joining orchestras and DJ's live on stage. And pitch correction software, Auto-Tune, really took off. But what made this formula work so well for the music and TV executives? Is there any science involved in music creation? Let's find out together in Science Starz. Grab your exclusive ticket to join the live studio audience of Science Starz. It's big band week and the contestants are using instruments to enhance their performances! Watch as awesome experiments recreate well-known musical sounds. There'll also be fun audience participation. Don't worry, you won't have to sing! Discover the connections between music and science as together we delve into how instruments make sound. Watch as percussion and wind instruments come to life through exciting science experiments. And be wowed by the ultimate science musical instrument – the mind-blowing, light-bending laser harp. Wow! But which scientific sound machine will help crown the reality show winner? The vote is yours – you decide who wins.
Accessibility

Access for wheelchair users

Adapted toilet

Level access toilet

Level access venue

Positive about disabled

Seat available