Lights, Camera, Science!
Winchester Science Centre
In 2022 we're celebrating 20 years of wow moments at the Science Centre. Take a trip down memory lane with us and enjoy some of our best show themes and demos from the past 20 years – all with a retro 2002 twist. Next stop - light.
Dates
July 2nd 2022 at 10:30 - July 2nd 2022 at 17:00
July 3rd 2022 at 10:30 - July 3rd 2022 at 17:00
Event details
Address:Winchester Science Centre
Telegraph Way
Winchester
Contact Information:01962 863791
info@winchestersciencecentre.org
Description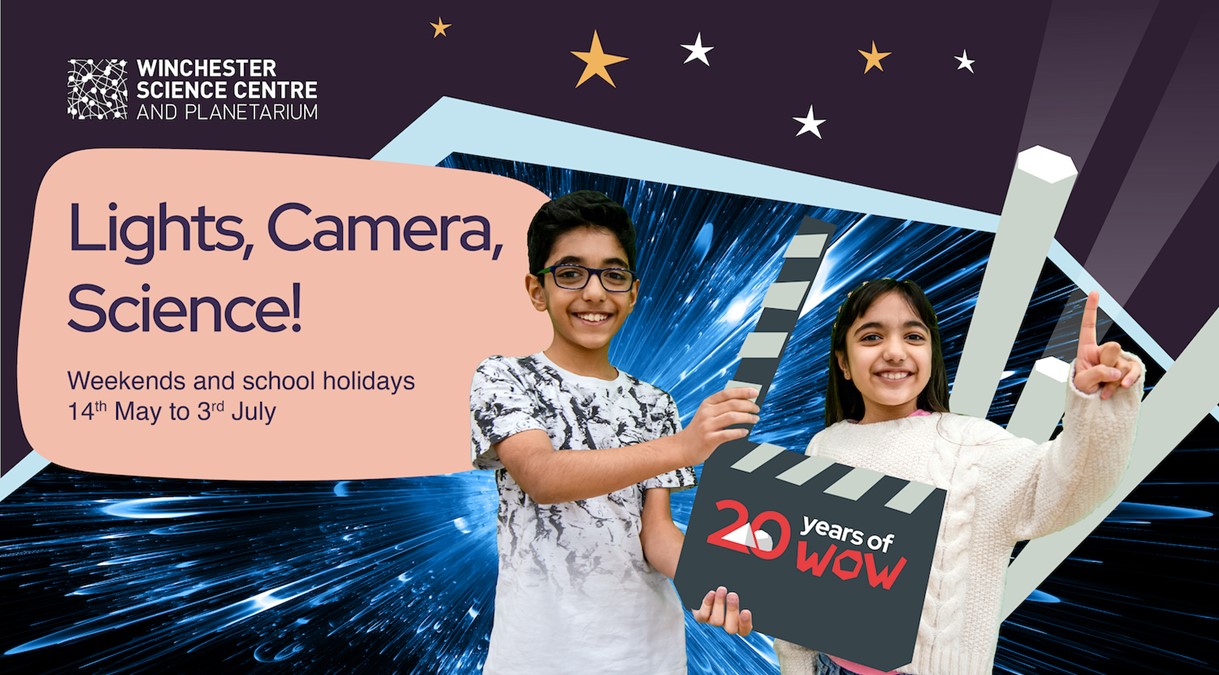 One of our favourite uses of light in the 21st century has got to be in cinema. Did you know that the release of Star Wars in 2002 sparked a technological transformation in cinema? Instead of traditional film, movies were now being made digitally. Digital film paved the way for things like CGI – Computer Generated Imagery – to grow massively too. CGI allowed the impossible to become possible. Harry Potter's magic came to life. Anakin Skywalker really looked like he was in space. And Scooby Doo's ghosts had never seemed more real. But what if the movie directors from 2002 had chosen to use practical light effects instead of visual effects? Let's find out together what this might have looked like. Lights, camera, science! Let's explore how light, not CGI, could have been used in some of 2002's top films. Our Inspirers will use some explosive experiments to recreate famous moments from the movies. There will also be some 'illuminating' audience participation along the way. Discover how the famous Star Wars light sabers can uncover the secrets of the light spectrum. Be wowed by real magic as Harry Potter's spells explode into life. And be prepared for a spooky encounter with a special light demo that would leave Scooby Doo trembling. The event runs from 14 May - 3 July 2022.
Please visit their website for opening days and dates. In Hampshire School term time the Centre is open Saturdays and Sundays. In Hampshire school holidays the Centre is open daily. Summer half term dates are Saturday 18 May - Monday 6 June 2022.
Accessibility

Access for wheelchair users

Adapted toilet

Level access toilet

Level access venue

Positive about disabled

Seat available