Jane Eyre (Watch at Home Event)
Theatre Royal Winchester
A fully staged performance of Blackeyed Theatre's acclaimed production of Jane Eyre, performed to a live audience in Bracknell on 4 November 2020.
Dates
January 19th 2021 all day - February 28th 2021 all day
Event details
Address:Theatre Royal Winchester
Jewry Street
Winchester
Tickets:Rent from £10 for 72 Hour Streaming period
Contact Information:boxoffice@playtothecrowd.co.uk
Description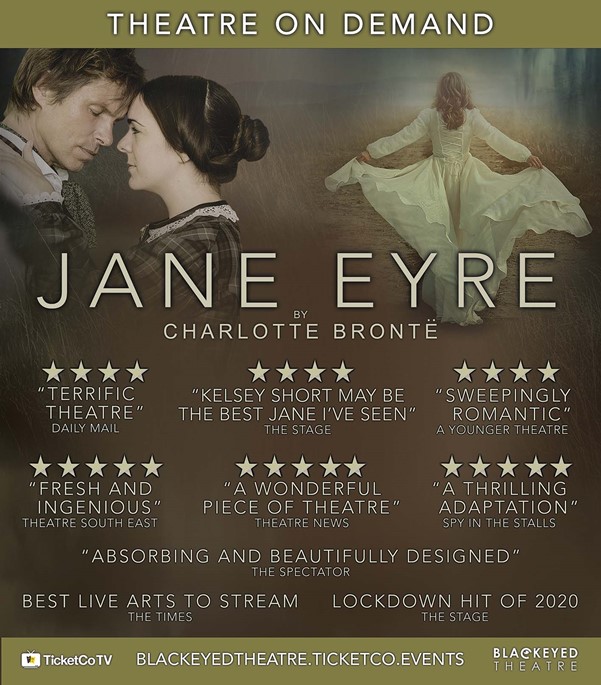 The production was due to be performed at Theatre Royal Winchester in March 2020 but had to be cancelled due to COVID-19. So here's your chance to watch the performance - featured in The Times' 'Best Live Arts to Stream' and one of the Stage's 'Lockdown Hits' - in the comfort of your own home.
A gothic masterpiece of tempestuous passions and dark secrets, Jane Eyre tells the thrilling story of an orphan girl and her journey from a childhood of loneliness and cruelty to a life at Thornfield Hall and an unlikely relationship with the mysterious Mr Rochester.
Falling in love, she gradually uncovers a hidden past to the gloomy, forbidding Thornfield Hall, a terrible secret that forces her to make a heart-wrenching choice.
Captivating, brooding and intensely powerful, Jane Eyre is a moving and unforgettable portrayal of one woman's quest for equality and freedom, and lives as one of the great triumphs of storytelling.
Watch at Home - Tue 19 Jan 2021 - Sun 28 Feb 2021. Purchase provides a 72 Hour Streaming period.