Light Up Winchester
Around Winchester
Celebrate Bonfire Night with a spectacular fireworks display either on line or from your garden or street.
Date
November 7th 2020 at 18:00 - November 7th 2020 at 20:30
Event details
Address:Around Winchester
Winchester
Contact Information:info@winchesterbonfire.co.uk
Description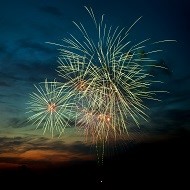 6pm Join us online
Fireworks Display
At 7pm on Saturday 7th November, we will set off an epic fireworks display from 3 secret and private locations from across the city.
Our aim is to cover as much of Winchester in Fireworks as possible. It should be spectacular!
We invite you to watch this from your gardens, on your street and socially distanced. Whatever the weather, why not plan a celebration with your neighbours?
Light Up The City
At 7pm, we ask you to raise your Bonfire Torches in the air. In fact, any light.
We encourage you to get outside, show off your Bonfire Torch, even your mobile phone, and make Winchester really light up.
We will have 3 drones flying over the city, capturing street by street, Winchester at its finest. Coming together for a great cause.
Our normal city centre torchlit procession is cancelled, but lets bring the atmosphere to your own street!
We will be selling our Bonfire Torches door to door, following the routes of the Winchester Santa Sleigh. See if we're coming down your road by clicking the link on their website or you can buy from us in the High Street Market on Saturdays during October and November
All profits from our events go to those in need in the city area, and post Covid-19 there are even more people in need of support. Please donate via their website!