St Maurice's Covert: Mural
Vibrant, bespoke mural commission completes St Maurice's Covert transformation
Earlier this year, Winchester City Council shared plans to commission an experienced artist to design and deliver a vibrant, bespoke mural at St Maurice's Covert.
The mural completes the transformation of the covert, funded out of the Public Realm Improvement Scheme on the High Street purse, and is the final part of a larger upgrade to the site. This has included the refurbishment to the covert's ceiling and paving and the installation of new lighting and seating.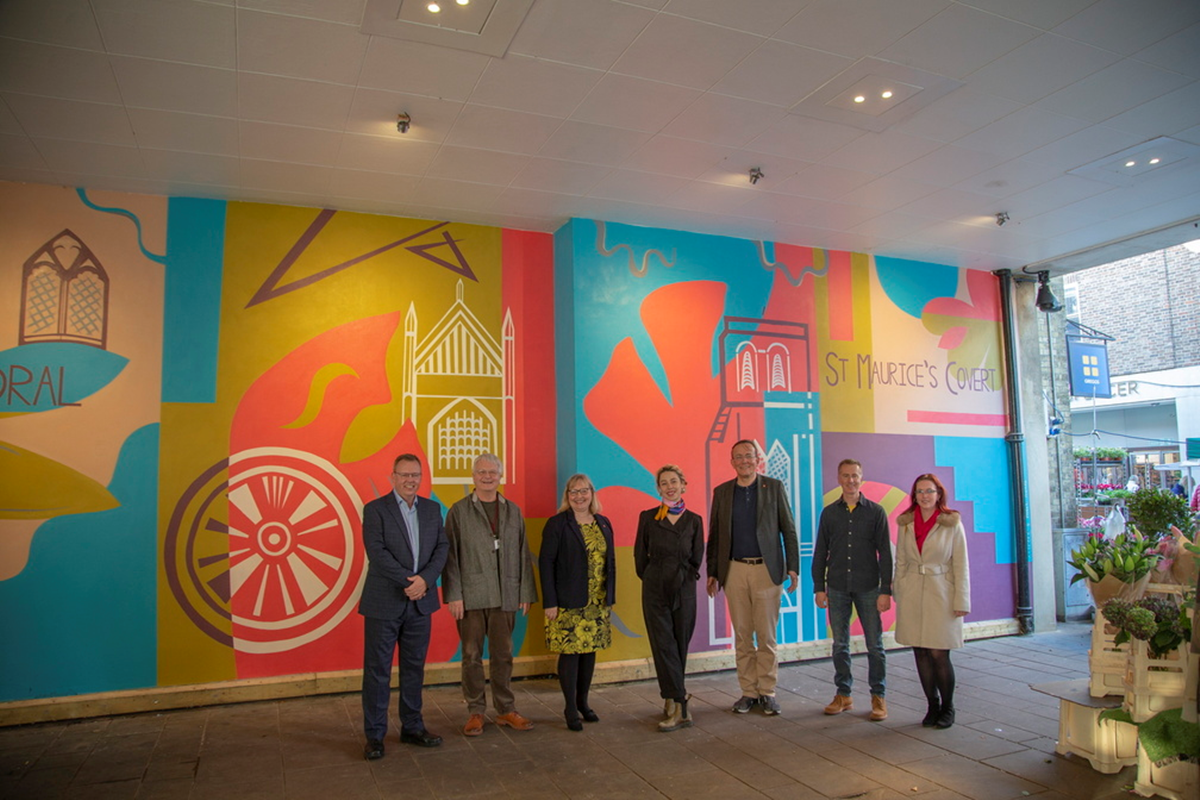 Cllr Chris Edwards, who leads the Town Forum's city centre group, says:
"This Public Art Commission is part of the council's ongoing commitment to improve the High Street for everyone. The mural makes St Maurice's Covert a more attractive route through to the cathedral and beyond."
Following an open call for designs, which attracted over thirty submissions from across the UK and saw local people responding to a final selection of three designs, the commission was awarded to Molly Hawkins.
As an international visual artist Molly's work has been shown in Poland, Germany, Mexico and India - as well as all over the UK. She has held solo exhibitions of her work in Berlin, Bristol and Cosham and art residencies in Toulouse, Goa and Batley.
Molly is renowned for her large-scale colourful art in public spaces. Her use of bright, vivid colours, patterns, and bold, energetic designs, which have become her hallmark, feature strongly in her design for St Maurice's Covert brightening and enlivening what was quite a dark blank canvas. She has fused together her contemporary style with different aspects of Winchester's local heritage. Her design also serves as a signpost, reflecting that the covert is a well-trodden shortcut from the High Street towards Winchester's iconic cathedral.
Talking about her experience of creating the mural, Molly said: "It's been an incredible opportunity to transform St Maurice's Covert and bring my vibrant design to life in Winchester. Seeing the mural in situ creates a joyful feeling that I hope will bring inspiration to others. Celebrating the architecture and energy of the city through the artwork, has brought me a lot of joy whilst creating."
Cllr Lucille Thompson, the city council's Cabinet Member for Business and Culture says: "I am delighted to see Molly's eye-catching design in situ brightening up the area of St Maurice's Covert for both residents and visitors to enjoy. Her design reflects Winchester's important cultural heritage in twenty-first century contemporary art. We have great pride in our lovely city and this previously neglected area has been gradually transformed into a space with more light, more colour and improved seating."