Kite Flyer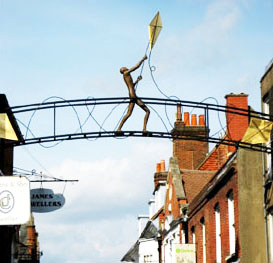 Parchment Street in Winchester is home to the city's famous landmark, the Kite Flyer.
Created by sculptor Marzia Colonna, the Kite Flyer is a bronze figure of a young man joyfully flying a gilded kite whilst walking across a bridge which spans Parchment Street at a height of nearly six metres.
The bridge was constructed locally by Denmead's Metal Art Design foundry in the Winchester District.
The commission came in response to Parchment Street businesses' quest to attract more trade to explore and appreciate the street's range of independent shops, restaurants and cafés - already a favourite with many local people.
The Kite Flyer lost his kite during a recent storm but it will be returned to the string shortly.